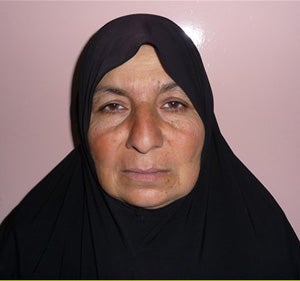 Samira Ahmed Jassim al-Azzawi has been accused of recruiting more than 80 Iraqi women as suicide bombers, though she only admits to around 30. How did she do it?
According to her own interview: she did it by helping set up rape squads and then preying on their victims.

In a prison interview with the Associated Press — with interrogators nearby — she said that she helped to organise the rapes of young women and then stepped in to persuade the victims to become suicide bombers as their only escape from the shame.
Her taped confession, which has been broadcast throughout Iraq is reportedly bad PR for al Qaeda, if that's any consolation, though the rape squad reports have yet to be independently verified.
Last year, some questioned whether media obsession with the personal motivations of the female suicide bombers involved in the uptick in female suicide bombers in Iraq — especially among the very young and disabled — was sexist. Jassim's story seems to indicate that her organization was specifically targeting emotionally vulnerable women, rather than politically-motivated women — and that if her group couldn't find the former, it would create them.