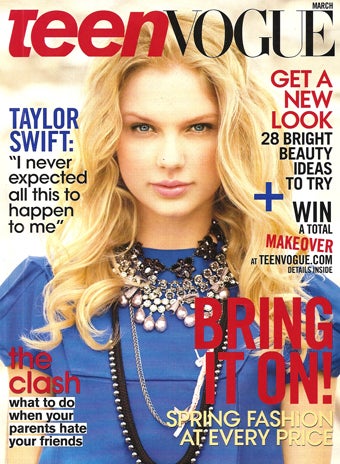 Wow: The March issue of Teen Vogue already hit mailboxes, and there's some scary stuff inside. Let's take a look, shall we?
This Guess ad is terrifying, because what is with the tatas and the big hair? And aren't they at odds with the Teen Vogue aesthetic?
Don't mind Gisele, she's just fingering herself.
I saw some "lifecaster" who shall remain nameless dancing to the Aerosmith song "Pink," and I was like, does she know that "pink" means vagina? And what about people who wear that Victoria's Secret stuff with "pink" emblazoned on the ass? People! It is slang for cooch. Cut it out.
Flying Fart Jeans: The hot new thing.
Friends, there are eight pages of jumping pictures in this issue. More proof that Ladymags love leaping layouts.