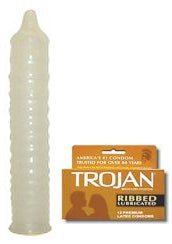 A new obscenity ordinance in Georgia prohibits the sale of "any device designed or marketed as useful primarily for the stimulation of human genital organs," which could extend to banning ribbed condoms and certain lubes.
Violation of the ordinance can lead to six months in jail and a $1000.
The South—or at least, certain lawmakers there—has never taken kindly to sex toys, the selling of which is banned in several states. (One case, that dragged on for nine years, challenging such a law in Alabama made it all the way to the U.S. Supreme Court in October 2007, who declined to hear the appeal, thus upholding the original law banning the sale of sex toys.) However, this new ordinance, which was passed unanimously in Coweta County, Georgia on Monday, illustrates just how dangerous regulating obscenity can be, as the language leaves tons of room for interpretation.