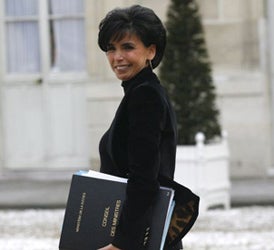 French Justice Minister Rachida Dati, who recently returned to work five days after giving birth, has been fired amid controversy about who fathered her baby, her lavish lifestyle, and her relationship with President Sarkozy.
Dati, 43, is expected to resign in June after running for European parliament, but according to The Guardian she resisted leaving the government and was forced to resign by Sarkozy.
Dati's decision to return to work so soon after she gave birth 21 days ago caused a media controversy, with feminist groups claiming that she was bullied by Sarkozy, who announced an important justice reform soon after she gave birth, giving her no option but to return. Dati is a single mother and has refused to comment on who is the father of her baby, but there has been rampant speculation in the French media. Salma Hayek's on-and-off beau, LVMH billionaire Francois-Henri Pinault, and former Spanish Prime Minister Jose-Maria Aznar (among others) have publicly denied paternity and some say she used a sperm bank in Denmark.