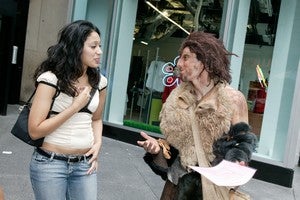 A number of readers have written us about the charming, virile blogger Roissy and his guide to identifying sluts.
Roissy is a proponent of PUA (pickup artistry) or "game," and his raison d'etre is helping hapless men "bang" more chicks while spending less money, thus developing into "alpha males." Since the whole point of his blog is to treat women like prey and men like animals whose worth increases in proportion to their savagery, we're not exactly surprised that his list of "tramp tells" (used to distinguish "wife and mother of your children material" from "stopwatch material. You wonder how fast you can get her from 'Hi' to 'Spread your ass cheeks, I'm going in'") is misogynistic. Still, we thought you "wind-up Jezebel lezbots" would enjoy a few selections:
She suggests kinky sex acts.
Cosmo agrees with this one. Somehow we're not shocked by the similarity.