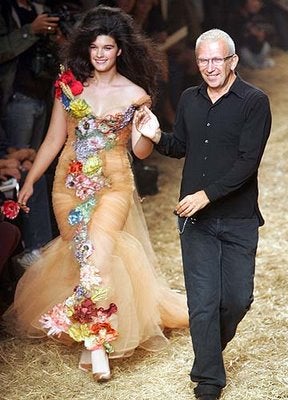 Newsweek's Sameer Reddy is railing against elasticized waistbands, chubbiness, Velcro, Juicy Couture, jean shorts, and the value of comfort in dressing. Does he hate puppies, too?
I suppose it was about time to read another one of these articles where some writer wrings his or her hands over Americans' allegedly inconsistent commitment to fashionable dressing. The rhetoric in these trend pieces never changes: we are always and in perpetuity too fat, too lazy, and too dumb. (Although there was, always and in perpetuity, a mythical time in the not-too-distant past when every male citizen of every state wore a 40R jacket and every female citizen could rhapsodize extemporaneously about the superior hand of natural fibers.)
What I don't understand is why writers like Reddy, and Lynn Hirshberg of the New York Times, who wrote one of these dismal pieces in 2007, consent so easily to playing the scold. Writes Reddy, "The stereotype of the ugly American has become intractable."
If you ask citizens of other countries to paint a portrait of the average American tourist, it would look something like this: a loud, chubby sight-seer wearing a fanny pack, baseball cap, printed T shirt, jean shorts and sneakers.
I wonder, why do we care? And do these people not realize they have elasticized waistbands in France, too?
Reddy harks back to the age of Mad Men — a fictional, modern-made television series with a professionally styled wardrobe department — as evidence that we only recently forgot ourselves and embraced casualwear in the workplace. That Nicole Phelps, executive editor of Style.com, points out that real working women of the 1960s had to wear girdles more painful even than Spanx to fit the reigning professional silhouette of the era, doesn't trouble Reddy, probably because he is a man.