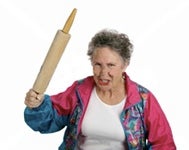 Recent news: An 88-year-old woman in Portland, Oregon scared off a naked male intruder on Tuesday by giving his privates the squeeze. Let's take a look back at the other tough-as-balls older women of 2008.
• Recently, an 81-year-old woman in Scotland knocked down a would-be mugger from his bicycle when he tried to grab her purse.
• Earlier this month, a 70-year-old woman reportedly gave birth to her first child after undergoing IVF treatment.