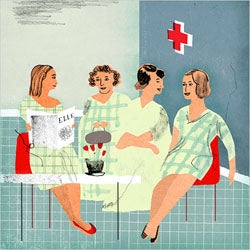 I've stopped trying to define how the New York Times defines "love," modern or otherwise. Cause it's conspicuously absent from the latest "Modern Love" essay, "The Kindness, and Xanax, of Strangers." Or is it?!
Don't get me wrong: this is an interesting piece. It's the account of a scientist's breast cancer relapse, and it's brisk, mordant and absorbing.

I had a fresh case, in my previously unscathed breast. The new occurrence was local, meaning no multiple surgeries, no chemotherapy. This time I had the very best form of breast cancer. Way to go!
Whereas before the author, Sally Hoskins, took comfort from a support group of similarly afflicted women, this time she wants to go it alone, treating the relapse with a strictly-business matter-of-factness.

But now, a decade and a half later, roads had been taken, choices had been made. This time the idea of a support group didn't even occur to me. Breast cancer? I knew the drill.
However, she and the other women end up bonding over the pain-dulling effects of Xanax (necessary to get through the onerous "wire insertion"), which the sisters-in-arms share generously with each other.

Yes, I was buoyed in part by my Xanax-filled water wings. But what really kept me afloat was the one thing I had mistakenly believed I could do without: the loving care that flows freely among female strangers even in short-term groups like this one, established within minutes and disbanded just as quickly, only to re-form with a whole new cast in the next waiting room, and the next.
Nice, interesting...but whither the modern love?! Even defining the term pretty loosely, this seems to fall a little short of what the poets speak of. The closest we get is various unspecified references to what would seem to be Philip Nobel's infamous Elle essay.