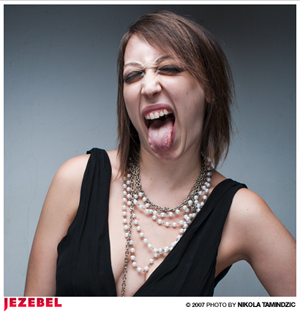 I've come to the conclusion that saying goodbye to a beloved and trusted colleague never gets any easier, and such is the case with departing editor Jessica Grose.
As many of you know, today is Jessica's last day — after a successful stint helming the site in my weeklong absence; give her a round of much-deserved applause — and, as such, it's almost time to say goodbye.
I first met with Jessica in early 2007, and she came on board as an Associate Editor in the early fall of that year. Over the past 14 months, I've seen her grow from an unbelievably reliable, hardworking, ambitious and versatile writer into, well, an even more unbelievably reliable, hardworking, cheerful, ambitious and versatile writer. (Yes, that's possible.) Oh, and somehow, despite the 10+ hour days, Jessica somehow found the time to not only keep up on the news on everything from pop culture to politics but make news, enjoy a life outside of work (easier said than done), and maintain a cheerful, up-for-anything attitude that is the object of my unyielding envy.