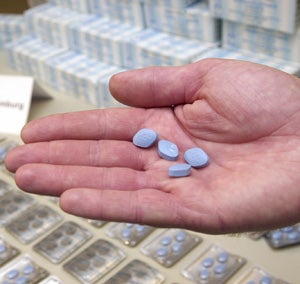 On the day after Christmas, what better topic for Spencer Ackerman and I to discuss than the use of Viagra as a weapon of mass construction? Now, with a special appearance by Boyz II Men.
SPENCER: How was your Christmas? I had my first real Christmas dinner yesterday afternoon, which led to a fun moment where Yglesias and I were too full and too drunk at 7:15 to do anything more than watch our train back to DC from Silver Spring slither away.
MEGAN: D'oh, from the outdoor platform, too! Gifts were exchanged, we had both Christmas breakfast and Christmas dinner, I believe our family consumed 4 bottles of wine and then we plugged my computer into my parents' new flatscreen and watched Holiday Inn starring Bing Crosby and Fred Astaire (since there was nothing on TV) in which, it turns out, Bing Crosby and partner appear and sing in blackface about Abraham Lincoln. It was, um, worse than the time I watched The Crying Game with my mom and got to the full-frontal scene.
SPENCER: hahahahaha I saw that with my seventh-grade girlfriend in the theaters. Quick question, junior-high-aged readers: should you be turned on by that?
MEGAN: I mean, as a dude in the 7th grade, doesn't like a stiff (pardon the pun) breeze turn you on? (Yes, I can hear you groaning at that pun from here.)
SPENCER: you now see the dilemma. Transgenderism is supposed to be a bridge too far. It was an awkward moment. And to think, we paid to see The Sandlot in order to get in to the movie theater at the Kings Plaza mall.
MEGAN: The movie theatre in Scotia has one screen, and I don't believe they ever showed it. They did, however, refuse my friend Melanie and I entry to Alive in that same period of time, so I don't think I would have gotten in anyway, which explains how I ended up seeing peen in the living room with my mom. I would still rather see peen than Bing Crosby in blackface singing about Abraham Lincoln. But I believe you had a larger point to make about erections.
SPENCER: Right you are. Lest anyone consider our CIA hidebound and uncreative, let's extend to them a Christmas best-wises by noting their ability to weaponize Viagra in Afghanistan:

"Whatever it takes to make friends and influence people — whether it's building a school or handing out Viagra," said one longtime agency operative and veteran of several Afghanistan tours. Like other field officers interviewed for this article, he spoke on the condition of anonymity when describing tactics and operations that are largely classified.
You can't officially acknowledge that part of the passel of counterinsurgency methods employed in the Afgh are dick pills. But what do you think of this idea?
MEGAN: Ok, well, my first thought is that, as a woman, I lack a significant level of insight into this. I like sex. I like it alot. I am rather annoyed at this particular moment in time that I have not had any recently — though we know my definition of "recently" can be a little off — BUT I cannot see selling out some sort of sense of political principles or whatever in order to regain the ability to self-lubricate, say. So, riddle me this, my penis-owning friend: is getting erections really that universally important to men?