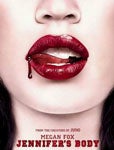 Good news for Diablo Cody fans! A release date has been set for Jennifer's Body, the satirical demon-possessed cheerleader movie penned by the Oscar winning writer.
Jennifer's Body
will hit theaters on September 18th, 2009. As
previously noted
, the film will star Amanda Seyfried as the nerdy girl who is forced to kill her possessed best friend when she starts feeding off the boys in their small town.
Maxim
-favorite Megan Fox is set to play the man-eater. The buzz surrounding the horror-comedy has
generally been good
, and with this cast, we can hope for a strong opening weekend for Cody. [
Cinema Blend
]