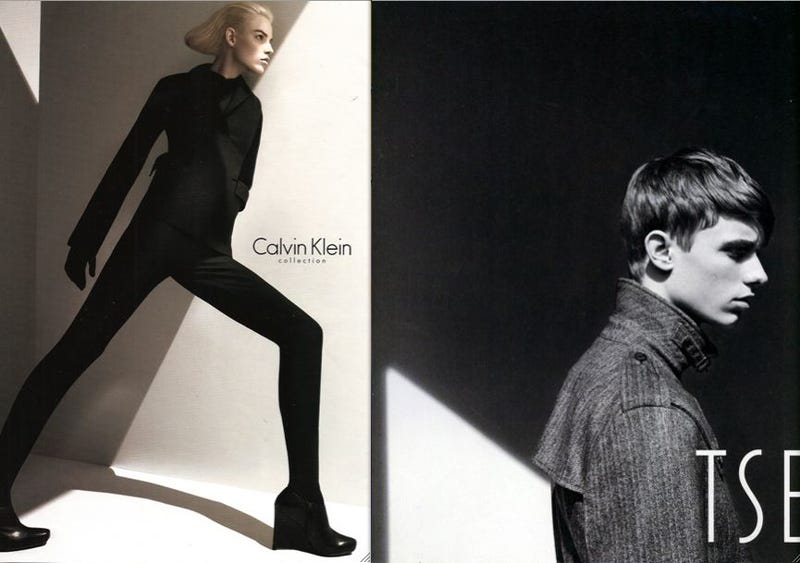 I was skimming a men's magazine the other day when I paused, mouth agape, on the new TSE campaign.
The abstracted, angled black shadows on the white background, the strong, slanting light that hit the model just so, the black-and-white photography, and the simple lines of the featured clothes, all made one clear announcement: the cashmere brand pointed to the latest Calvin Klein campaign with Suvi Koponen, and told its creative team to copy like their lives depended on it. But then I got to thinking, haven't I seen the architectural black and white theme elsewhere in fashion photography this season? In a business as crowd-sourced and trend-based as fashion, how can you tell the difference between recycling an aesthetic and taking inspiration from an old idea, anyway?
Suvi Koponen — Finland's next top model, would you believe — has been favored for Calvin Klein Collection campaigns for the past few seasons. This fall, she was shot by Fabien Baron for a series of images that took dramatic delight in the lines of Francisco Costa's garments, which this season were a little like 90s minimalism gone very good. Dodai is on record calling this campaign one of fall's worst ads, but I gasped when I first saw it. Working with so little — no props to create an atmosphere, no other models to generate charisma — could easily result in a tedious set of images. Sure, Suvi looks a little like a robot (an awe-inspiring fashion robot). And I don't love the Stepford coiffure, which seems to unhelpfully contrast in era with the clothes. But I think these pictures are unmistakably beautiful. And I prefer their flirtation with high-concept self-serious absurdity to a million here's-a-pretty-girl-now-buy-our-product luxury campaigns any day.