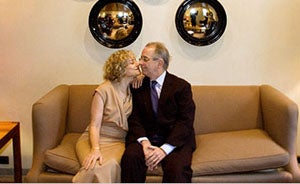 In 1992, Gary Cosimini pulled the "the midlife crisis trifecta" and left his wife Jane Kallir for a "new girlfriend, two-seater convertible and 29-foot sailboat." And a few weeks ago, Jane remarried him.
Kallir and Cosimini had their second marriage profiled in the New York Times vows section on Sunday, and even though back then Cosimini had taken a job without consulting his wife, and "her complaints made him angry and uncommunicative," the couple managed to patch things up.
I bring this up specifically because the comments to a recent post about cheating that Sadie wrote were so unilaterally harsh. Almost all of the commenters thought cheating, even once, is an unforgivable, Bobbit-worthy offense. I've never dealt with this personally, but the reaction seemed to ignore the fact that in any longterm relationship, there are vast swaths of gray.