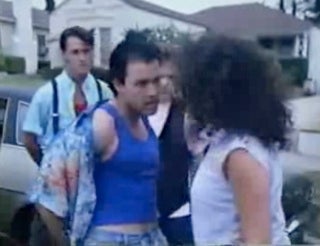 Gabe at Videogum is pretty sick of "fake rap." And to ensure that it is wiped off the planet, he's been collecting examples of the horrors that fake rap can bring. We thought we'd help.
Fake rap, according to Gabe, "is like children's music designed specifically to raise an army of sociopathic misanthropes." Though fake country songs and fake pop songs are all over the place, trying to sell us baubles and bangles or teach our kids how to read on Sesame Street, as Gabe notes, "somehow the fake raps are the most insufferable." He points out Ed McMahon's Free Credit Report ads as a primary example.
If you're as concerned about putting an end to fake rap as Gabe is, please feel free to sign his End Fake Rap Petition, to help stop the madness once and for all. Unless, of course, you're into fake rap, and if that's the case, let us know why. Also: feel free to post any cringeworthy fake raps you know in the comments below.
Tracing The History Of Fake Rap: The El Paso Police Department[Videogum]