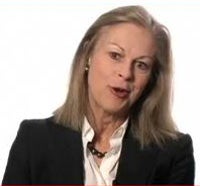 Christie Hefner, the current CEO of Playboy Enterprises, is hardly a shrinking violet. But, sometimes, even the best CEO can use a little media training. In a series of new videos for the site Big Think, she spouts off about the Playboy brand, her father's sense of perspective and the future of online porn that made us wonder, frankly, how she managed to be a relatively successful CEO with such blinders on (or whether she's an even better bullshit artist than her dad).
The first entry, entitled Christie Hefner on the Difference Between Playboy and Porn, Hefner doesn't talk so much about why Playboy isn't porn, but about how it is a lifestyle. She says:

I think what Playboy aspired to from the beginning was to represent the good life, and part of that was the attraction between men and women and the romantic part of life.
See, while it's true that mutual attraction is important, there isn't a lot of mutuality about wanking to pictures of naked women that will likely never sleep with you.
Hefner also talks about why it's important to make sure your branding is coming across the way you want it to.

So I think the lesson is to actually understand what you believe your brand mission is and then to be true to that in terms of how the consumers see it. And that's a combination of your own standards and some regular research into whether the consumers are perceiving your brand the way you want them to.
Do you think Hefner's looked into what the Playboy brand is selling folks these days? I don't know how "sexy" union suits connote the good life, but then, perhaps I'm jaded.