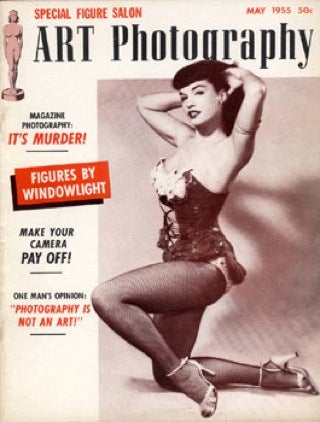 Pin-up legend Bettie Page has been hospitalized after a heart attack she suffered on Tuesday. The 85-year-old Page is being held in the intensive care unit, and is "critically ill." [NYTimes]
The Pussycat Dolls are apparently "so excited" to open for Britney Spears on her Circus world tour. "The Pussycat Dolls can babysit Britney Spears' kids!" says lead singer Nicole Scherzinger. I'm sure Britney's lawyers are thrilled to hear it! [US Magazine]
Meanwhile, Britney is having a "love-hate relationship" with her boobs. "At the moment I hate them. I want them smaller," Spears says, "I'm tempted to have a breast reduction so I can slink into some amazing stage outfits for my next set of shows. I know they look sexy but sometimes they get in the way." It's like raaaaain on your wedding day! [DailyMail]
New details are emerging about Full House star Jodie Sweetin's divorce: Sweetin claims that her husband, Cody Herpin, never made any efforts to find employment after they were married. "Our house is in foreclosure, our water has been shut off twice. Currently, all of our other utilities are overdue," Sweetin says, "[He] kept finding one excuse after another for his failure to even attempt to find employment." The couple had reportedly been living on Sweetin's residual checks from her child stardom days. Yikes. [People]
Tell your 12-year-old niece to stop freaking out: the Jonas Brothers like, totally aren't breaking up, you guys! [US Magazine]
Nicole Kidman admits to being extremely attached to her baby, Sunday Rose. "I can't bear to be separate from my baby; I'm totally devoted to her," Kidman says, "Mum says I'm over-bonded with her, but I don't care." Meanwhile, Connor and Isabella Cruise are, you know, somewhere, doing something, whatever. I kid! I kid![DailyMail]
Ouch: MSNBC has a harsh headline up regarding Beyonce's latest film: "Cadillac Records Is As Flat As A Vinyl LP." [MSNBC]
Kandice Hutchison, a 22 year old contestant on MTV's latest reality show, Double Shot at Love was killed in a car accident "shortly after filming her last scene." [US Magazine]
Jessica Simpson is apparently going back to her religious roots: ""I've been contemplating taking a college course in religion," Simpson says, "I love religion."[The Sun]
A "dry run" of Jimmy Fallon's new late-night talk show will begin Monday in an online-only format. [E!]

Eli Stone star and ex-husband of Angelina Jolie, Jonny Lee Miller, is now the proud father of a boy named Buster Timothy. Miller's wife, Michelle Hicks, gave birth to Buster on Wednesday; it is the first child for both.[People]

More drama for Lindsay and Sam: an onlooker claims that Lindsay was "in tears" after a fight with Ronson that was caused by Lindsay wanting to go home and Sam wanting to stay out and party. "Sam was roaming the party and chatting with people, and Lindsay just seemed to melt down literally," the source claims. [E!]

Sad news: writer and editor Forrest Ackerman, who coined the term "Sci-Fi" in 1954, has died at the age of 92. [Reuters]

Did Coldplay rip off "Viva la Vida" from guitarist Joe Satriani? Satriani thinks so, and is suing the band as a result. [EW]

Audrina and JustinBobby were spotted out together, most likely having a fake conversation in a well-lit area as a generic soundtrack played in the background and mascara dripped down someone's otherwise perfectly-made-up face. [US Magazine]

Image via PlanetBettie.