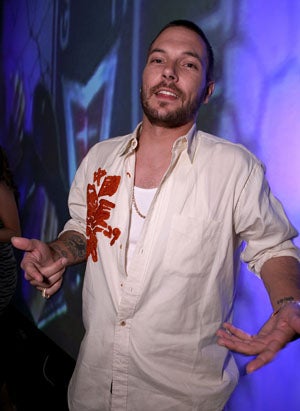 In June, Kevin Federline was named "Father of the Year" by some skanky Las Vegas club. Of course, the designation isn't exactly a huge honor, but it does reflect the fact that Federline was praised for doing the bare minimum of what any father should be doing: taking care of his kids. The fact of the matter is, Kevin may be a pretty crappy father when it comes down to it, if what Britney Spears told Rolling Stone interviewer Jenny Eliscu is true.As partially quoted in Dirt Bag this morning, Rolling Stone says:
Of all the things Britney has lost in the past year, it's the custody of her sons, Sean Preston, 3, and Jayden, 2, that has shaken her hardest. "Every time they come to visit me, I think about how they're such special people," says Spears, who currently sees the boys three days a week, with one overnight stay. "Like, they're going to preschool now! I went there to pick them up on Friday, and seeing them in their little classroom and seeing Jayden being bad or not listening? It's like, those are mine, and it's just crazy, you know what I mean?…Things haven't turned out like she imagined. "I didn't think my husband was gonna leave me," she says, deadpan. She laughs to break the tension. "Otherwise, I'd be with my babies 24/7. But since they're almost like twins, they both take care of each other. I think they look like me," she says, going from affectionate to bitter as she gets distracted by thoughts of Federline, whom she sees only when one of them is picking up the boys. "They don't look like their father at all," she continues. "And it's weird 'cause they're starting to learn words like 'stupid,' and Preston says the f-word now sometimes. He doesn't get it from us. He must get it from his daddy. I say it, but not around my kids."
From this, it sounds like Federline is giving the kids minimal attention and not caring if they act up or misbehave in class. Britney was run through the muck for being a terrible mother, even though it was obvious at the time that she was having severe mental issues. The tabloid media is always denigrating celebrity moms, but when was the last time you remember a celebrity dad being lambasted publicly?
Britney Returns
[Rolling Stone]