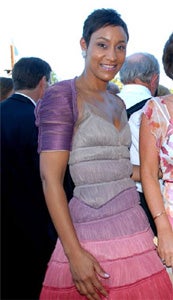 Yesterday,
Barack Obama announced that Desirée Rogers will become the new White House Social Secretary
— the first African-American woman to hold the position.
Rogers is a well-known businesswoman
, currently employed by Allstate Financial and once president of Chicago's Peoples Gas and North Shore. She also has quite the eye for fashion, if that dress is any indication. But why would a woman who holds an MBA from Harvard and an undergraduate degree from Wellesley want to be a social secretary, a title that evokes little more than
Miss Pettigrew Lives For A Day
and executive assistants? Probably because it's much more than that.The White House Social Secretary isn't just in charge of making appointments — she is (and, in recent times,
it's always a she
, although rarely a woman of as much prominence as Rogers) in charge of everything about every public event the President and First Lady do — from state dinners to the Easter Egg Roll to the Christmas parties and everything in between. And if that's still not enough for you to think that this her job is on a par with the other work she's done, think about it this way: she's got to know every bit of protocol for every state dinner; make every guest list and every seating chart; coordinate security; choose menus; find entertainment; and satisfy every single person involved. Events at the White House are on a giant and extremely formal scale, and it's not something you turn over to a 20-something event coordinator who is good at small parties. If you've ever tried to plan a massive, security-cleared social event for people so important they get security details (and I have), then you know it's backbreaking, exhausting, tedious work at which incredibly detail-oriented and (relatively) cheerful people tend to excel — if only because when you're done busting a hump to plan the event, you then get to put on a nice outfit and smile and pretend like you don't notice the waiter inadvertently serving the soup from the wrong side. On top of that, unlike the current White House occupants, who tend to be homebodies, the Obamas have said they want to be a part of Washington, and to have even more social events open to the public. In
an interview with the Washington Post
, Rogers said she is committed to doing events with kids and more interactive events to allow more people access to the public side of the White House — which would, in effect, make her the Obama's PR person in addition to her more formal duties. All in all, Rogers is in for quite the wild ride in Washington — and, if you want to be part of the social scene at the White House, she's the person to know. Two tips to Rogers from a D.C. type: everyone calls one another "friends" here in Washington, even when you've met twice; and I have formal etiquette training, always use the right fork and am available at the drop of your hat if you need a seat filler.
Friend Of The Obamas To Be Social Secretary
[Washington Post]
For New Social Secretary, Life In The Fast Lane
[Washington Post] Related:
First Lady's Photo, October 2007
[White House]