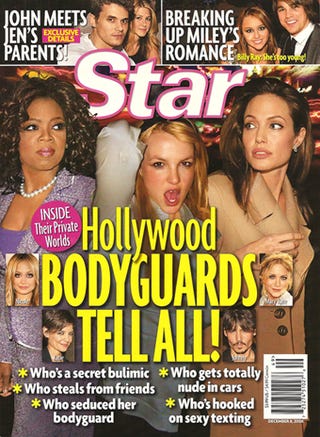 Welcome back to Midweek Madness, appearing a day early due to the shortened holiday week.
Us
landed an "exclusive" cover story about Heidi and Spencer's "spur-of-the-moment" wedding, but the
In Touch
cover story (in which a source says Angelina Jolie told a London waiter not to pour her a drink because she's pregnant) is also intriguing — if true. Of the other covers this week, two are dullsville: Reese Witherspoon's on
OK!
and there's non-news "Baby News" in
Life & Style
. But
Star
's "Bodyguards Tell All" story includes snippets about a certain pop star who believes in unicorns. Maria assists as we give thanks for gossip and feast on the rumors in
In Touch
,
OK!
,
Life & Style
,
Us
and
Star
, after the jump.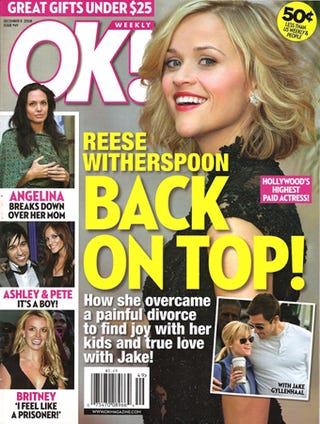 OK!
"Reese Witherspoon Back On Top!" The snoozefest article inside consists of quotes from the interview Reese did with
Parade
, which comes free with your Sunday paper, so don't bother. Unless you want to read, again, how she wants "someone to build me a good chicken coop." Moving on: Filed under "bromance,"
Leonardo DiCaprio gave Zac Efron his phone number
at the
GQ
party! Leo said, "Give me a call and let's shoot the shit sometime." Maybe Leo knows what it's like to be trapped in the role of teen heartthrob, and could give the kid some advice? Next: Heidi Klum says after the Victoria's Secret Fashion show: "I stop by McDonald's and get a Big Mac and fries. I do it every year." The rest of the mag is all fashion, gift guides and and how-to-eat-less-for-the-holidays. Tip: Use a smaller plate!
Grade: F (spoiled Brussels sprouts)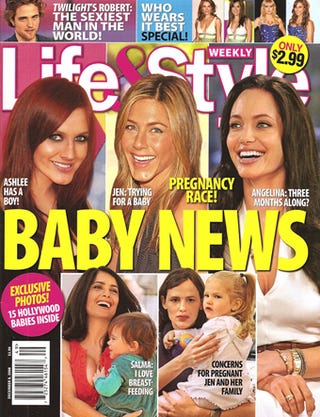 Life & Style
"Baby News." Apparently Jennifer Aniston and Angelina Jolie are in a "race to the delivery room." Someone should probably tell them. Then there's "news" about all the different Hollywood babies; Matthew McConaughey's kid is going to be bilingual, since his mama is from Brazil. Moving on: There's
an "exclusive" interview with Paris Hilton
in which she tells her side of the story involving her breakup with Benji Madden. She says: "I still have deep feelings for Benji. Seeing someone else is the last thing on my mind." Oh!
You'll never guess why Twilight's Robert Pattinson is so hot: He's made from the parts of other Hollywood celebs, like a Frankenstar (Fig. 1)!
Lastly, this week in Dr. Rey's Casebook, Kate Winslet would look better with Lori Loughlin's forehead (Fig. 2), since it is wrinkle-free.
Grade: D- (cold mashed potatoes)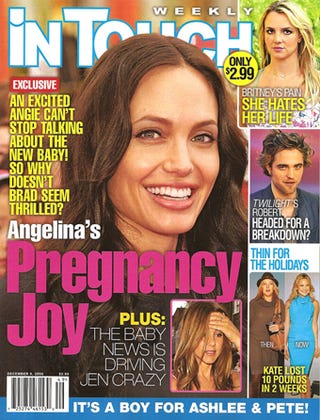 In Touch
"Angelina's Pregnancy Joy" Apparently
in London, Angelina was at dinner, when, a source says, "She announced her pregnancy to the waiter when he started to pour her a drink.
Brad was annoyed because he's not ready to go public with the news, but Angie thought it was hilarious." Plus! "Brad feels a little guilty that he has to rely on hired help." Dude, you have six kids and you are a millionaire. Moving on: Daniel Craig says Prince Harry should be the new James Bond. "He's suave and just a little bit dangerous," Craig says. "Like Bond, he's unpredictable and would be the perfect Bond." In a spread called "Thin For The Holidays," we learn that Kate Hudson has dropped weight lately and that she's been up and down her whole life, all though the proof they have of this is a photograph of her while pregnant. Also inside: Eva Longoria wears Spanx (Fig. 3). Oooh,
America's Next Top Model winner McKey awkwardly models "The Season's Hottest Holiday Dresses" (Fig. 4)
. Lastly: Can
Twilight
star Robert Pattinson "handle the pressure?" He says: "I just don't want to get shot or stabbed. I just don't want someone to have a needle and I'll get AIDS."
Grade: C- (grocery store-bought pumpkin pie)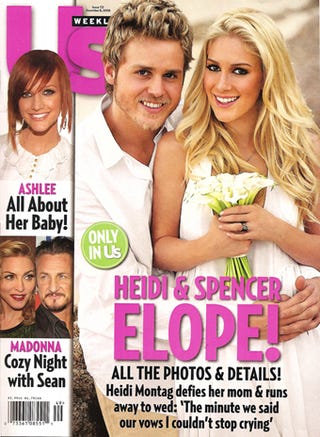 Us
"Heidi & Spencer Elope!"
Heidi and Spencer claim that their wedding was "spur of the moment,"
yet, there was a photographer present, a floral designer, and Heidi happened to have the perfect white Balenciaga sundress with her! It's rather floaty, don't you think? (Fig. 5) Could she be knocked up? Anyway. Apparently they were just having margaritas and decided to go for it. And the minister was trying to pitch his wedding reality show to Spencer. After their celebratory dinner, Heidi suddenly had a bad stomachache. She says it was "new bride jitters." But now that she's married, she says, "I feel like more of a woman, in a sense. I'm head of the house. I'm running my own family."
Grade: C (canned cranberry sauce)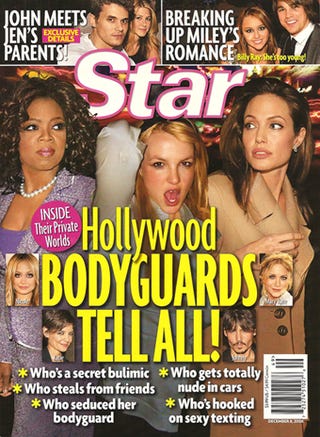 Star
"Hollywood Bodyguards Tell All!" In this ten page story, there are tons of juicy details about A-list celebrities, straight from the people formerly paid to protect them.
Britney takes diet pills and "Everyone knows she stills throws up when she's eaten too much."
A former bodyguard says Britney also insists that Tinkerbell is real and that unicorns are real and "live somewhere in New Zealand."
Angelina tosses knives at the walls when she gets upset with Brad
and makes her bodyguards sleep outside in their cars 24/7. Lindsay Lohan is a total slob and puts her cigarettes out wherever she wants. Plus, she steals from some of Hollywood's biggest stars. Miley Cyrus's limo rides are a "total party" and she snaps risqué pictures of herself getting kissy with her girlfriends. Plus, Tish Cyrus is hell to work for and "so damned rude and bossy."
Tom Cruise "demanded" that Katie Holmes cut her hair short.
She cried when he did it, and most of the people surrounding her are spies for Tom.
Julia Roberts is a "total hippie"
who doesn't like to wash her hair or take showers. Oprah wears a wig and and has cropped blond hair, so when she doesn't want to be recognized, she just pulls off the wig. Johnny Depp, his girlfriend and kids don't spend as much time in France as you might think — they're in LA a lot, but they have so much security around them, no one ever knows. Moving on!
Blind item: "Which fabulous reality diva won't admit to being knocked up out of wedlock? Her throwing up, bingeing and increasing clothing size are all big clues she's got one on the way."
(Heidi??) Next: Miley Cyrus and her dad are feuding over her new boyfriend. A source says Billy Ray thinks Justin Gaston a "bit of a mooch" and doesn't want him taking advantage of Miley.
Lindsay Lohan and Sam Ronson had a brawl in London; a friend says "their relationship has run its course."
Jennifer Aniston introduced John Mayer to her dad and stepmom over dinner, and he charmed them by saying, "How am I doing? I'm a wreck!" Tom Cruise and Nicole Kidman's daughter Isabella has been hanging out with Nicole more and more. A source says, "Nicole couldn't be happier." Lastly, did you know Oprah Winfrey won Miss Fire Prevention in 1971? And in 1972 she won Miss Black Nashville, and the offcials said it was a mistake and that they'd called the wrong name. But when they asked her to relinquish her crown, she said, "No, it's mine. My name was called."
Grade: B- (leftover turkey)
Fig. 1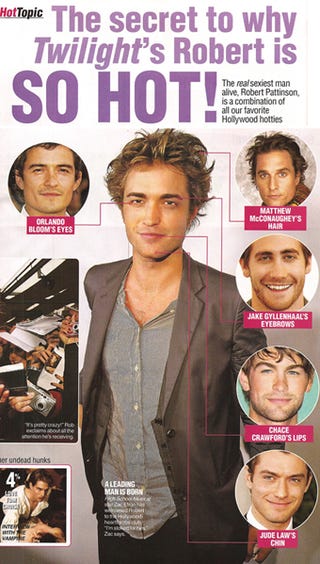 Fig. 2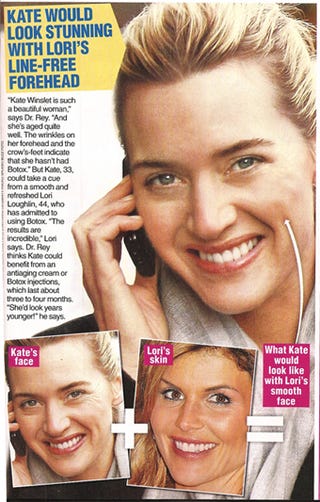 Fig. 3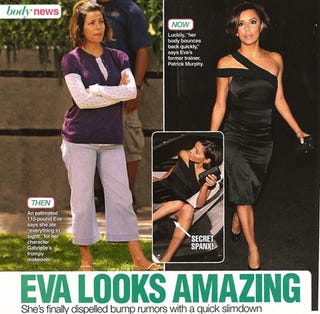 Fig. 4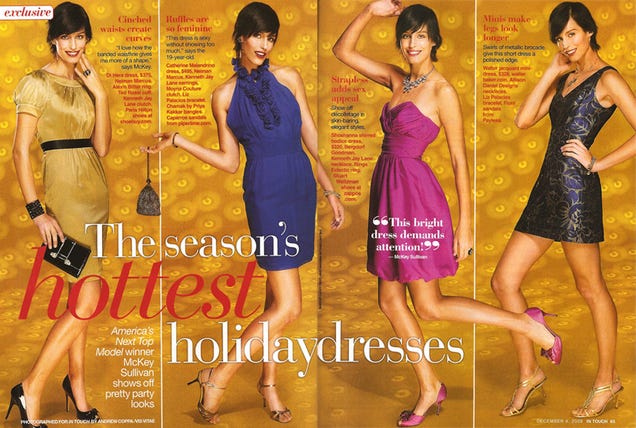 Fig. 5