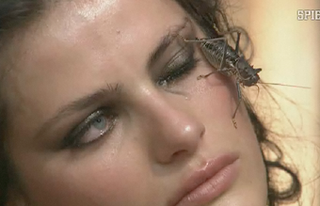 Ever heard of the
Pirelli Calendar
? Sure, Pirelli makes tires, but the company also produces a calendar, famous for its limited availability. You can
see it online
, but you can't buy it: It's not sold, only given as a corporate gift to a restricted number of important customers and celebrity VIPs. It's basically the world's only prestigious pin-up calendar, featuring "artistic" nude photography. This year, the calendar was shot in Botswana by Peter Beard, and the concept involves half-naked models draping themselves over elephants, dunking themselves in algae-covered watering holes, or, in the case of poor Isabeli Fontana, left, being tortured by posing with some sort of giant insect on her face.While the tears are Photoshopped out in the final image on the calendar, it's clear in the
behind-the-scenes
footage from the shoot that Fontana is
crying
. Tearing up, maybe, but still. And this is no top model challenge: She's
already
posed for Victoria's Secret,
Elle
,
Vogue
,
Bazaar
, Versace and Valentino. Watching the photographer coerce the models into doing bizarre and offensive things (more footage
here
) — smoke next to an elephant, run topless with frizzed out hair and a leopard-print bikini (how "savage"!) — makes you wonder: Why? Why would the models subject themselves to such icky stuff? Why did the photographer choose these painful concepts for a "pin-up" calendar? (
Naomi Campbell
posed in 2005, and didn't look quite as uncomfortable.) And, of course: If it's not sexy, and it's not selling tires, what's the point?
Making Of Pirelli Calendar
[Spiegel]
Behind The Scenes Of The 2009 Pirelli Calendar In Botswana
[SassyBella]