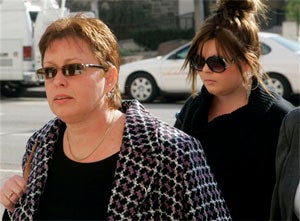 Yesterday marked the final day of testimony in the trial of Lori Drew, which may set precedent in cases of cyberfraud and social networking. Today at 9 a.m.
a jury of six men and six women
will convene to decide the fate of Ms. Drew, whose online bullying of Megan Meier allegedly violated the MySpace terms of use and drove the 13-year-old to suicide. Judge George Wu says he will
not
decide whether or not
to dismiss the case
until after the jury has deliberated. In the final day of testimony, Lori's 16-year-old daughter, Sarah, took the stand to complete her testimony, more details came out about Megan's role in the initial rift with the Drew family, and both sides provided their closing arguments.
Megan allegedly called Sarah an "ugly lesbian," which is what prompted Lori Drew and her business assistant, Ashley Grills, to create the fake MySpace account in the first place.
According to People:

Drew's now 16-year-old daughter Sarah testified Monday that, on Oct. 16, she was with Grills and, "I told her not to send that last message" to Megan that said that the world would be a better place without her. "Did Ashley send that last message?" O'Brien asked. "Yes," Drew said as she wept. Two of the six female jurors dabbed at their eyes. "She was my best friend," the defendant's daughter tearfully recalled.

Defense attorney Dean Steward said in his closing statements that Drew can not be guilty of a conspiracy because a conspiracy implies intent. Drew didn't even read the MySpace terms of use, so she could not have intentionally violated them. "Nobody reads these things, nobody," he said. "... How can you violate something when you haven't even read it? End of case. The case is over."
More from Steward: "If you hadn't heard the indictment read to you, you'd think this was a homicide case…And it's not a homicide case. This, ladies and gentlemen, is a computer case, and that's what you need to decide."
In addition, he added that there was no cyberbullying in this case because "Megan dished it out the same way that she got it," and Steward also said, "[Ashley] Grills, bless her heart, is pathetic."
The prosecution focused on the tragedy of the case in order to sway jurors. According to the AP, "Lori Drew decided to humiliate a child," U.S. Attorney Thomas O'Brien said. "The only way she could harm this pretty little girl was with a computer. She chose to use a computer to hurt a little girl, and for four weeks she enjoyed it."
"The tragedy in this case is not just Megan Meier's suicide," U.S. Attorney Thomas O'Brien said in his closing arguments to jurors, Reuters reports. "It's the fact that it was so preventable. If, as a 47-year-old woman Lori Drew was so upset that Megan Meier had called her daughter ugly or a lesbian, she could have gone over and talked to her mom and we wouldn't be here."
Judge Postpones Ruling On Lori Drew MySpace Trial
[Wired]
Jury Gets Case Of MySpace Hoax Tied To Suicide
[AP via MSNBC]
Cyber-Bullying Suicide Case Goes to Jury
[People]
Jury To Deliberate In MySpace Suicide Case
[Reuters]
Lori Drew Case Goes To Jury
[Wired] Earlier:
MySpace Trial, Day 1: Megan Meier's Last Words
MySpace Trial, Day 2: Lori Drew Says, "It's Not Like I Pulled The Trigger"
MySpace Trial, Day 3: Lori Drew's Daughter Speaks