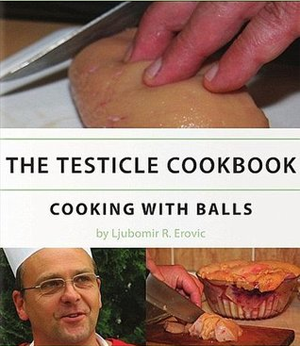 When we first
got word
of Ljubomir Erovic's new book,
The Testicle Cookbook: Cooking With Balls
, one thing became crystal-clear: After decades of jokes about busting someone's balls, I was finally going to be able to make good on the metaphor! And so, in honor of the holiday,
Kay
Steiger
,
Latoya Peterson
and
Ann
Friedman
joined
Spencer
Ackerman
and me for a delicious reproductive organ meat feast. The video is, of course, after the jump.
A Very Feminist Thanksgiving Feast
from
Megan Carpentier
on
Vimeo
. For the record, it is really, really difficult to peel balls, as you've basically got to slice the connective tissue, work your fingers in around one end and separate it. It is impossible to do if you're going to be remotely squeamish about it — and the video that Spencer and I watched does
not
do justice to the sound, feel or odor that comes with peeling balls. If Spencer's reaction to the video when we watched it doesn't scare you off, you can see the original below.
The Testicle Cookbook: Cooking With Balls
[Yudu]
The Testicle Cookbook — Peeling Testicles
[YouTube] Earlier:
Schweddy Balls