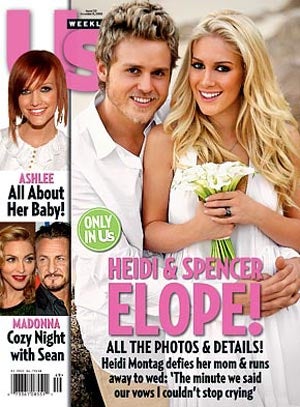 "The minute we said our vows, I couldn't stop crying," declares Heidi Montag of her recent runaway marriage to Spencer Pratt. And they're right on trend! Apparently elopement — and post-wedding depression — are on the rise.According to the Times — and now the Pratts — elopement is back in a big way, the inevitable backlash to the age of the bridezilla and an obvious solution to the economic climate. Says one wedding planner, "Many young people are conscious about not wasting money and concerned about the expense for friends and family." Of course, the celeb elopement is nothing new — Britney, anyone? Peaches? — and has always been a fitting bookend to the general impermanence of such arrangements. (Not like the big weddings are so stable.) But the confluence is certainly curious. Interestingly enough, alongside the elopement trend pieces come a spate on "post-nuptial depression." According to the daily Mail :
The expectations of newlyweds are so high, and married life is such a let-down after all the planning and the excitement of the big day that an increasing number of brides are suffering from post-nuptial depression, say American doctors. In fact, the feel-good factor fades so fast that up to 10 per cent of America's 2.3million couples who marry every year - that's 230,000 couples - suffer strong enough remorse, sadness or frustration to make them seek professional counselling, said California therapists.
In addition, the fact that a lot of couples cohabitate pre-wedding makes them think they know what it'll be like, and the reality of such a big step can still come as a shock. While the experts speculate that a lot of this letdown comes from unrealistic expectations, at least part of it arises from the inevitable lack of excitement post-festivity when a huge wedding - rather than marriage - has been a goal for a year or more. Writes Jeninne Lee-St. John in
Time
, "The problem may be that after months consumed by wedding preparations and feeling like the center of attention, the sudden shift back to everyday life can be a shock. 'I put a lot of time and effort into the wedding planning process,' says Erin Hastings, 28, who got married in 2006 after an 18-month engagement. 'Where do you redirect your energy once it's over?'" In this regard, the elopement trend seems like a very wholesome response to the prevailing wedding pressures —even if its increasing acceptability just serves to make those going whole-hog feel less pressured. Big weddings aren't going anywhere — they bring a lot of people pleasure and are regarded as a necessity by many, even in hard times — but the pressure to have one is definitely abating. And if anyone was going to go whole-hog, wouldn't you think it would be Heidi and Spencer? Whether their elopement indicates a trend has jumped the shark or whether they're in the long line of celeb impulse marriages remains to be seen. But we'd recommend they brace themselves for what've come to be called "The Wedding Blues."
Spencer & Heidi Got Married!!!!!!!!!!!
[Perez Hilton]
Like Romeo and Juliet, With a Happier Ever After
[NY Times]
Huge Increase In 'Post-Nuptial Depression' As Newlyweds Turn To Therapists For Help With Bridal Blues
[Daily Mail]
Postnuptial Depression: What Happens The Day After
[Time]