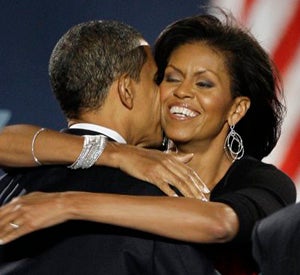 If you thought that supporters of Barack Obama spent the last 2 years irrationally pinning all their hopes, dreams, policy positions, world views and ambitions on him, you likely aren't shocked by the leftist backlash against everything he's done in the last three weeks. But Barack will probably have it easier on that score than his wife — after all, few people are going to wonder what his outfits say about his fathering, or whether the personal decisions he makes are some sort of reflection on what he would think of others' choices. Yes, it's 1992 all over again, when everything the First Lady says or does is some judgment on women everywhere only, this time, the First Lady is also African-American.First up is the obligatory "advice from other leaders' wives" piece from today's New York Times , which cites Cherie Blair on what it's like to have a husband with a really, really important job.
"It is something of an irony that in these days of pushing for equality those of us married to our political leaders have to put their own ambitions on hold while their spouses are in office and keep their views to themselves," Mrs. Blair continued. "I, at least, had my career. That is not an option for Michelle Obama."
Michelle
can't
keep her career and be the First Lady — though she will be the third woman in the role to have a graduate degree. While praising Michelle, Carla Bruni, who has been married to French President Nicolas Sarkozy for less than a year, got in a little backhanded insult when asked why she'd stuck to her career as a singer after her marriage:
"Then I thought that maybe for a woman nowadays," she said, "it's important to have a job and keep it."
Well, for Bruni, perhaps, it was important, but many women take time off from careers for their children — sacrificing everything from their sense of independence to a source of family income — and Michelle Obama is only one example of that. Besides which, as Blair acknowledges, at least, it isn't like Michelle Obama even
could
continue to work if she chose to do so — it's actually prohibited. Besides finding a balance between the personal and political, there's also a host of official duties that go along with the role of First Lady,
as today's USA Today points out
. You're got to break champagne bottles across bows, smile nicely at state dinners, go to dozens of Christmas parties, play hostess, be seen as the perfect wife and mother, give the occasional speech and act like this is all exceedingly normal — to say nothing of, in Michelle's case, still being seen at fashionable and trend-setting. And she's got a lot on her plate with regards to what her presence means to African-American women, as
Allison Samuels points out in Newsweek
. Samuels and her friends want Michelle to focus more on urban issues, to raise her kids right, to not lose her temper, to keep up the facade of the all-adoring wife. She should keep exercising, and dressing well and being everything to everyone while having every hair perfectly in place for the spotlight that will be on her
not
for her politics or policies, but for how everyone thinks she's living up to the ideal they have set for her as a wife, mother, First Lady, African-American woman and on and on. Sigh. No wonder she's focusing on her kids; they might be dependent on her but they probably don't have as many expectations as the rest of the universe.
From Home and Away, Advice for a First Lady
[NY Times]
The Momification of Michelle Obama
[Salon]
Great Expectations Await Next First Lady
[USA Today]
What Michelle Means to Us
[Newsweek]