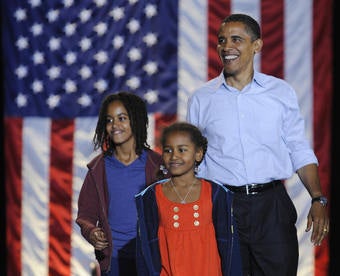 We know that the Obamas have chosen Sidwell Friends, a private school, for Sasha and Malia, but is it a good choice? Time magazine's Nancy Gibbs points out that the "first-rate" Quaker school educated Chelsea Clinton, Al Gore III and the Nixon girls and that "nearly four in 10 students are children of color." Also, writes Gibbs:
Long before the days of women's suffrage and equal rights crusades, Quakers were unique in integrating women fully into the ministry; the schools were not only coeducational, they focused on equipping girls with all the same spiritual and intellectual apparatus as boys. It's no accident that Susan B. Anthony and Lucretia Mott and any number of leading suffragists were raised in Quaker homes.
On the other hand, a piece in the
Wall Street Journal
reminds us that unlike so many families in this country, the Obamas have the
means
to select a private school, "and no one begrudges them that choice given that Washington's public schools are among the worst in America." The
WSJ
piece notes:
Most D.C. parents would also love to be able to choose a better school for their child, but they lack the financial means to do so. The Washington Opportunity Scholarship Program each year offers up to $7,500 to some 1,900 kids to attend private schools, but Democrats in Congress want to kill it. Average family income for kids in the voucher program is about $22,000. Mr. Obama says he opposes such vouchers, because "although it might benefit some kids at the top, what you're going to do is leave a lot of kids at the bottom." The example of his own children refutes that: The current system offers plenty of choice to kids "at the top" while abandoning those at the bottom.
Obviously the President-Elect is giving his daughters an education some Americans can't give their children. But which politician would not? In any case, the challenge for Sasha and Malia will be some attempt at normalcy (Facebook
banned
? Oh no!)
Newsweek
reporter Suzanne Smalley received an email from a parent whose child attends a school the Obama girls visited last week: "My son asked one of the Secret Service agents yesterday why he was hiding behind a doorway in a hall," the parent wrote. Apparently Malia "had asked him to hang back so she could be more 'normal.'" But! The kids at the school referred to the Secret Service agents as "bodyguards." Not normal, but kind of cool?
Why Sasha and Malia Will Go to Sidwell Friends
[Time]
The Sidwell Choice
[WSJ]
Just One More Frame!
[Newsweek]