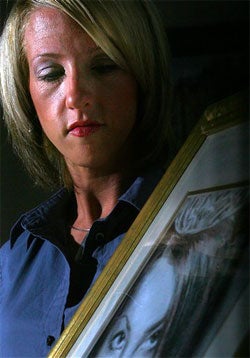 Day 3 of the trial against Lori Drew, accused perpetrator of cyberfraud , continued on Friday with testimony from Drew's daughter and Megan Meier's former friend, Sarah. Sarah, now 16, testified that Megan said to her, "I don't know if I could live anymore." (Sarah burst into tears when Federal attorney Thomas O'Brien asked her why she didn't tell anyone about Megan's confession of suicidal thoughts.) Much of what Sarah said under oath directly contradicted the testimony of her mom's assistant, Ashley Grills, on whom Lori Drew is placing most of the blame. More on Sarah, as well as the possibility that the case may be dismissed today, after the jump.
Sarah Drew told the court that her mother Lori thought the MySpace hoax was a good idea only for the first two weeks of tormenting Megan. Sarah claims that Lori told her assistant, Ashley Grills, to delete the "Josh" profile at that time.
According to the AP, " Sarah also said she tried to stop Grills from sending the final message. 'I was like, Ashley, no, don't send it,' Sarah said. 'She said she sent it and laughed about it.'"
Sarah testified that she never saw her mother use the MySpace account, directly contradicting Grills.
Also from the AP:

Sarah said Megan confided in her on two occasions that she wanted to kill herself. "She was like, I don't know if I could live anymore," she said of one instance. "I told her not to do it." Sarah cried on the witness stand and nodded when O'Brien questioned her about why she didn't tell any adults about the suicide conversations. Defense attorney Dean Steward stood up and lashed out at the region's top federal prosecutor for badgering the teenage girl.

After the prosecution rested its case on Friday, Wired reports, Drew's defense asked for an immediate dismissal based on Sarah's testimony that Lori Drew never read or agreed to the MySpace terms of use, and as a result could not have violated these terms. Furthermore, Ashley Grills accepted these terms of use, not Lori Drew.
From Wired:

Wu retired to his chambers to review transcripts of previous testimony and consider the motion. When he emerged 30 minutes later, he asked both sides to file written briefs on the issue. He allowed the defense to proceed with direct examination of its witnesses and said he'd give his decision about the motion to dismiss on Monday.
Daughter Defends Mom In MySpace Hoax Trial
[AP via USA Today]
Judge Considers Throwing Out Lori Drew Case
[Wired] Earlier:
MySpace Trial, Day 1: Megan Meier's Last Words
MySpace Trial, Day 2: Lori Drew Says, "It's Not Like I Pulled The Trigger."