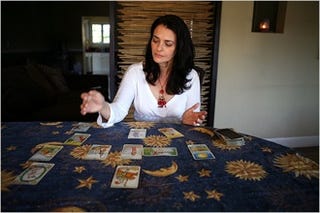 As the economy continues to go down the toilet, most of us are cutting back on small luxuries and
spending our cash
on the essentials instead. Gone are the days of frivolous spending, as the news seems to get worse and worse, and images of Hoovervilles and unemployment lines are replacing sugarplums in the dreams of many worried citizens during the holiday season. But some people are handling their recession panic in another way: forking over "anywhere from $75 to $1,000 an hour" to check in with a special kind of economic advisor. Not an accountant, mind you. Not a financial planner. Those people, apparently, are just as panicked and confused as the rest of us. In these difficult times, as Ruth La Ferla of the
New York Times
discovers, some citizens are looking to an
otherworldly solution
to their problems, dropping the big bucks for good ol' fashioned psychic readings.While you probably haven't seen any "Call me now for your free economic advisory reaaadin'!" Miss Cleo-esque commercials running on late night television, the psychic industry has seen a significant increase in traffic, both online and off. Roxanne Uselman, a psychic who, according to La Ferla "says she channels angels to advise her clients on interpersonal and financial matters," has seen her clientele double, and admits she is "having trouble squeezing in appointments." Uselman, who once had a mainly female client base, claims that she's now seeing many men; mostly businessmen, lawyers, and stock traders, who speak to her as if they are speaking to a financial adviser. "Before agreeing to a reading, they will ask: 'What is your accuracy rate? Can you guarantee your readings? How do you get your information and can I depend on it?", Uselman tells the
Times
. Robert LoCasio, chief executive of Liveperson.com, believes that the spike in psychic business is
directly related
to the escalating economic troubles. "In this day and age, a spiritual guide is an everyday therapist — that's what the business has become," LoCasio says. In other words: people are looking for comfort and peace of mind wherever they can find it. As La Ferla notes, relationship and love issues, the psychic business staple, have taken a back seat to "questions about whether a pink slip is in the cards, whether a condo will sell, or whether a company will continue to prosper." The traditional means of acquiring these answers, though fellow businessmen, advisors, or therapists, just isn't comforting enough for some anymore. Tori Hartman, an L.A. psychic, agrees: "Your mortgage agents, your realtors, your bankers, you can't go to these people anymore. They're just reading a script — at least that's how my clients feel. People are sensing that the traditional avenues have not worked, that all of a sudden this so-called security that they've built up isn't there anymore. They come to a psychic for a different perspective." Hartman's different perspective costs "$150 for a 30-minute telephone reading to $500 for 90 minutes of 'intuitive counseling', and her website is currently selling a ton of $70 "prosperity" candles. I'm not quite sure what to make of this phenomenon: while it's hard to fault people for seeking out a source of peace to calm their fears, it seems a bit insane to spend 70 bucks on a candle when you're worried about the economy, doesn't it? And to dole out "comforting" advice for $75-$1000 bucks an hour to people who are panicked that they might be losing their jobs or savings seems a bit shady, though the psychics aren't forcing anyone to do so: people are seeking them out, and they're simply providing a service. Whether or not psychic readings are legit or not is one thing, but for the believers, the insight of a psychic reader seems to bring a sense of peace that's worth the price. As Alicia Bowling, a Manhattan sports bar owner, notes: ""In times that are this nerve-racking, all it takes is one word that kind of helps you get through your day." Have any of you sought psychic advice for your economic woes? Or are there any psychics out there that have had a boost in business? Feel free to share your stories in the comments. As for the rest of us who can't afford a real reading: the ol' Magic 8-Ball is currently selling for $7.48 on Amazon. I'm just sayin'.
Love, Jobs and 401(k)s
[NY Times] Earlier:
What's Your "Necessary Luxury?"