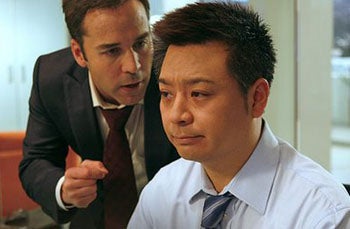 ForbesLife Executive Woman has an article about what several high powered women, including Marie Claire Editor Joanna Coles, look for in an executive assistant. When Coles was looking for an assistant earlier this year, she told HR she wanted a right hand man like the fictional Lloyd, Ari Gold's beleaguered assistant on Entourage . "I'm not sure they knew what I was talking about, but I realized I really needed a Lloyd in my life," Coles tells writer Irina Aleksander. "At my worst moment I can be a bit like Ari Gold, and I needed someone who, when I speak in half sentences, can finish those sentences."As anyone who watches Entourage can tell you, Ari Gold uses Lloyd as his tiny punching bag and expects him to be on-call 24/7…sounds delightful, right? What's more baffling is the way these women see their ideal assistant: as someone super smart, super motivated…and entirely unambitious. "I would much rather have someone who sees this as the job they want, who doesn't see it as a stepping-stone," says Jamie Raab, Executive VP of the Hachette Book Group. "And if you find such a person, you try to hang on to them, because training someone new about your likes and dislikes takes a long time." Apparently the ideal executive assistant is some combination of life coach, spouse and mind reader. According to Aleksander:
What is what high-ranking executives describe as the X factor. It's not just about getting the phone and wrestling with the copy machine. It's about reading minds, anticipating needs, and calling France to find a cab when the boss is stranded on a Paris street."I'm looking for someone who can do ten things at once and doesn't mind when I start yelling in the middle of all that," says [Pamela] Liebman [CEO of the Corcoran Group]. "Someone who is even-tempered, really smart, and can figure things out without me always telling them what to do."
I understand why someone smart would agree to get yelled at and read minds for a year or two if it could get them a leg up in the industry of their choice, but seriously, why would anyone agree to this as a career destination? Also: is it a sign of progress or of demise when so many female executives admit that they freely scream at their underlings on a regular basis?
Office Life: A Great Assist
[Forbes]