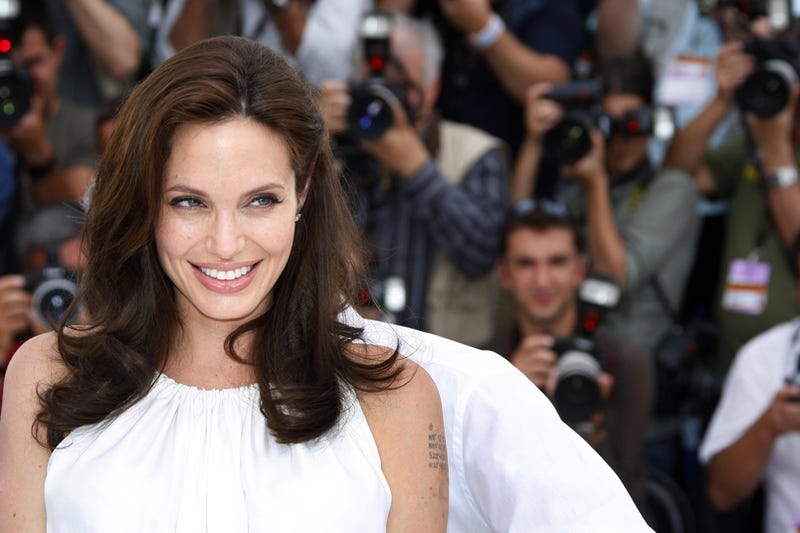 Today's New York Times story about Angelina Jolie delved into the actress's metamorphosis in the press from blood vial-adorned, knife-obsessed, limo-sex-having vamp to UN good-will ambassador, philanthropist and mother of six. While many of the celebrity weeklies use Angelina to sell issues, she uses magazines, too: Publications like People , to which she not only sold pictures of her newborn twins and an interview, but asked for journalistic input. And though a statement People claims "the magazine does not determine editorial content based on the demands of outside parties," the mag never uses the word "Brangelina," which Angelina hates. Angelina is clearly in control. Bonnie Fuller, the former editor of Us Weekly and Star , has this to say about Angie:"She's scary smart. But smart only takes you so far. She also has an amazing knack, perhaps more than any other star, for knowing how to shape a public image." Times reporter Brooks Barnes points out that while Jennifer Lopez also sold pictures of her twins to People , she has a team of eight to assist her. "Ms. Jolie, 33, has her cellphone, a lawyer and [her manager] Mr. Kosinski (and, of course, the counsel of her partner, Mr. Pitt)." Barnes insists that if a magazine wants Angelina's cooperation with a story, they're going to have to highlight her humanitarian work. He writes:
Shifting the focus is one of Ms. Jolie's best maneuvers, magazine editors and publicity executives say. When she became romantically involved with Mr. Pitt, for instance, she faced a public relations crisis — being portrayed in the tabloid press as a predator who stole Mr. Pitt from his wife, Jennifer Aniston.
What did Angie do? She appeared in Pakistan, Afghanistan, and Kashmir, focusing on international crises. "Presto, they come out looking like serious people who have transformed a silly press obsession into a sincere attempt to help the needy," says celebrity publicist Michael Levine. Of course, Angelina's philanthropic adviser, Trevor Neilson, who is a former executive at the Bill and Melinda Gates Foundation, says: "People don't realize the complexity of what Angie is doing. A lot of her charity work is done quietly and not in front of the media." Meanwhile, numbers at magazines like
In Touch
and
Life & Style
— which do not have exclusive deals with A-list celebrities like Angelina —
are down
. Does this mean people are buying exactly what Angelina wants them to?
Angelina Jolie's Carefully Orchestrated Image
[NY Times]
For Two Celebrity Mags, a Reality Check on Readers
[WSJ]