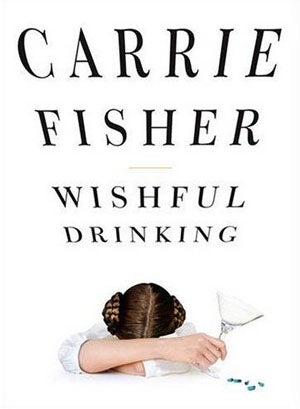 Celebrity memoirs are a strange breed. As a rule they're low on writing quality and high on self pity. But I had high hopes for Carrie Fisher's new memoir out December 2nd, Wishful Drinking , which is based on her one-woman show of the same name. Fisher, unlike most celebrities (especially ones spawned from other celebrities) can actually write, and I thoroughly enjoyed her roman à clef Postcards From The Edge . Wishful Drinking , though an extremely short book (about 160 pages, and the typeset is huge), is super salacious and entertaining.Fisher, the daughter of actress Debbie Reynolds and crooner Eddie Fisher, doesn't leave out any naughty details: her father's terrible facelift, her mother's bizarre, oft-repeated suggestion that Carrie make a baby with her stepfather, her drug addiction, her bipolar disorder — they all get exposed with equal measures of humor and charm. But my favorite anecdote is about her mom's boyfriend in the 70s, Bob Fallon, who inspired Debbie Reynolds to make a "stocking stuffer" into something completely obscene.
When I was about Fifteen, my mother had started dating a man named Bob Fallon, and my brother and I called him Bob Phallus, because he came equipped with exotic creams and sex toys. You know, aphrodisiacs. Well, actually, Anglo-disiacs, because we're white. Anyway, thanks to Bob, that Christmas my mother bought both my grandmother and myself vibrators! As unusual as a gift like this sounds, you have to admit that they are ideal stocking stuffers. I mean, you can fit the vibrator into the long top part of the stocking and still be able to get another cute little gift in the toe! Well, I have to admit, I enjoyed mine, but my grandmother refused to use hers. She was concerned that it would short-circuit her pacemaker. She said that she had gone this long without an orgasm; she might as well go the whole way. (And that pacemaker, by the way, was later recalled).
Also of interest for Paul Simon enthusiasts: there's a lot of bittersweet stuff about Fisher's on-again, off-again relationship with Simon, including which of his lyrics were about her. Turns out that some of my favorite lyrics ever were inspired by Carrie, including this gem from "Graceland": "She's come back to tell me she's gone/ As if I didn't know that/ As if I didn't know my own bed/ As if I didn't notice the way she brushed her hair from her forehead." And if that doesn't interest you, there's also a lot of dirt about George Lucas and the fact that he asked her to lose ten pounds for
Star Wars
.
Wishful Drinking