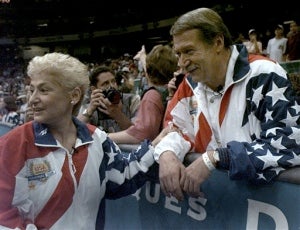 • Emelia Eberle, a former Olympic gymnast, claims that world-famous gymnastics coaches
Bela and Martha Karolyi
would frequently beat the young gymnasts they were training in Transylvania in the '70s. • Many young Han couples in China are forging Western weddings in favor of
traditional Han weddings
, which feature couples drinking from tea cups tied together with red string to symbolize a fated unity. • Meanwhile, the Paris City Hall issued a
32-page manual
today to help officials spot and prevent cases of young women being forced into marriage. •• Madeleine Pickens, wife of T. Boone,
has announced
she'll create a 1 million acre refuge for
wild horses
after the U.S. Bureau of Land Management said it will euthanize some of the animals in order to control the herds that roam over 10 Western states. • A
retired librarian
who died two years ago left more than $2 million to be split between the universities she attended: School of Information and Library Science at the University of North Carolina at Chapel Hill and the Curry School of Education at the University of Virginia .• Three wrestlers claim that they were
infected with herpes simplex 1
because York College coaches let team members wrestle with active lesions. • A
recent survey
in England found that 14 million people admit to reading on the toilet and up to 8 million say they like to talk on the phone or in person while on the loo. • The Australian Council of Trade Unions has
warned
Australia's Federal Government that paid maternity leave is "not negotiable" and should be delivered in next year's budget, leaving the US as the only developed country without a universal paid parental leave scheme. • A letter from Lewis Carrol to his
child muse
, Alice Liddell, is expected to fetch between £4,000 to £6,000 pounds at auction next week in England. • Ever wonder what happened to "
the Bee Girl
" in Blind Melon's classic "No Rain" music video? She is 25 and an aspiring actress. • Tennessee State University has
blocked students' access
to the anonymous and troll-y message board, Juicy Campus. • Japanese graphic designer Sachie Tani will appear in an
upcoming episode
of Animal Planet's
Cat 101
with her cat Goma, a bona-fide internet celebrity. • A
new study
claims that obese women who get pregnant after bariatric surgery tend to be healthier and less likely to deliver a baby born with complications. • An AP photographer
successfully reunited
two girls with the family they were separated from during the war in Congo. • Boston Red Sox pitcher
Tim Wakefield
—the inspiration for Eri Yoshida, a 16-year-old Japanese girl who was drafted into a pro Japanese baseball team— says he hopes to see Yoshida pitch one day. • A new study reveals that the part of the brain that copes with stress
flips
to the opposite side of a woman's brain when she gets her period. • An Indiana Court of Appeals ruled this week that the state's policy of
not charging motorists
for special "In God We Trust" license plates was constitutional. • More than 80,000 people have signed an internet petition to Russian President Dmitri Medvedev, urging him to release a
pregnant lawyer
from a prison camp in Mordovia in a case against a former oil magnate. • The managers of Pascha, a brothel in Germany, say they would eliminate their $6 entry fee in exchange for customers getting the brothel's logo
tattooed
on their arm. • Ethel, a 4-year-old rabbit in England whose back legs became paralyzed last year, got a
custom-made wheelchair
to help her move around. • A
study
claims that Millennials are much more confident than previous generations of kids and many think they will be "very good" employees, mates and parents. • A 74-year-old grandmother in England has been
banned from driving for 18 months
after she drank and drove after an aerobics class earlier this month and attempted to drive up some stairs. • A
flamingo
that flew out of a zoo in Des Moines, Iowa on Tuesday has been recaptured and returned to zoo officials. • Suspected wife-murderer Drew Peterson
met with divorce lawyers
to discuss divorcing his wife Stacy who has been missing for over a year. •