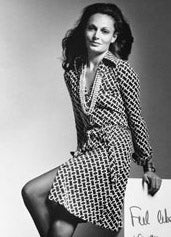 I came across yet another paeon to the wrap dress this morning - the wardrobe "essential" that Diane Von Furstenberg pioneered in the 1970s, and I started to really think about it. The wrap dress is lauded for being day-to-evening, sexy-but-professional, good-on-any-body, ideal for travel, and timeless. But how true is this, really?Says DVF, "It has been a unique phenomenon...What was new about my wrap dress was that I did it in jersey and therefore it molded the body and it was very flattering to the body." She told the Huffington Post in January,
The wrap dress is the most traditional form of dressing: It's like a robe, it's like a kimono, it's like a toga. It doesn't have buttons or zippers. What made it different was that it was jersey; therefore, it was close to the body and it was a print. And the first one was animal print so it made every woman look like a feline.
Adds a fan, "They make me feel not only sexy, but successful, sophisticated and timeless." Well, that's great. And I know that's certainly the party line on the wrap, but while I've been dutifully adhering to the doctrine for years - primarily in knockoff form, but in a few second-hand cases, for reals - I'm not sure how true it is. While the wrap is certainly good for traveling - it's compact and doesn't wrinkle — more often than not when I wear one I'm left feeling lumpy and exposed, and rather than striding around with liberating 1970s confidence, I find myself self-consciously tugging and adjusting the low neckline and skimpy skirt, and find that sitting down is an ordeal. Where, yes, a wrap works with curves, it also slides between breasts in a conspicuous fashion and the belt can cut in a way that's less than flattering to anyone with any flesh at all. What's more, a cami can spoil the line - not to mention show under the unforgiving jersey - and I've often been at the mercy of fashion tape, safety pins and even last-minute tacking. Theoretically wraps are adjustable and the jersey stretchy, but I find the typical dress dilemma — if it fits in one place it's too small on top, or vice versa - to only be magnified in a wrap, where I've experienced both dangerously loose bodices and frumpily bagging skirts, both of which kind of defeat the alleged "easy sexiness" of the design. The thing is, I love the cut of DVF's clothes (well, in dressing rooms, anyway) and her colorful textiles and
she
looks absolutely stunning in her creation. In theory, I still love it, and I've tried for years. But easy and flattering? Not in my experience. A-lines are easy. Structure is flattering. Wrap dresses, save for a lucky few, are an optimistic myth that we all love too much to give up, not least cause we've been told for so long that it was The Answer. What say you? *
Update:
Someone v fashionable just sent me this possibly-invaluable tip: "The girls at DVF told me to wear it backwards - so you have a boatneck in front and a plunging v in the back. Way sexy and great for girls with boobs."
Dear DVF fans: What is it about that dress?
[CNN]
Diane von Furstenberg On Wrap Dresses And The Joys Of Aging Gracefully
[Huffington Post]
Huffington Post" />