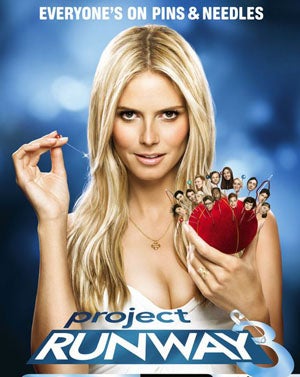 Oh NOES!!! Word comes from the
New York Times
today that Season 6 of
Project Runway
is postponed indefinitely
due to the legal haggling between
PR
producers the Weinstein Company and NBC Universal, the parent company of Bravo. For those who don't know, the Weinstein Co. led by notorious ball breaker Harvey Weinstein, sold the show to Lifetime back in April. But! As the
Times
notes, "NBC Universal sued, saying it had a right of first refusal to keep the show on one of its channels." An insider on the case tells the
Times
, "From what I know about courts, it could be well into the early spring before anything is decided." This legal wrangling has already been going on for 8 months, and all this back and forth is confusing! That's why we've provided a chronological field guide for you. Are we going to have to say auf wiedersehen to Heidi and company? Find out after the jump.
April
:
the first reports
emerge that
Project Runway
has been sold to Lifetime. Our own Jen feared that the show's patented bitchiness would be replaced by murderous cheerleaders and copious tears. NBC Universal immediately launched their lawsuit against the Weinstein Co. in an attempt to block the move to Lifetime.
May
: Rumors that
Elle
will no longer sponsor
Proj Run
are leaked.
Marie Claire
and some Nina Garcia-lite on their staff reportedly may take over.
June
: The new
PR
will be shot in L.A. rather than in New York and Heidi Klum describes the show as getting a
"face lift."
We fear, as with real face lifts, this means the show will lose its character and charming wrinkles.
July
: Season 5 of
Proj
premieres to almost no fanfare. Many speculate that Bravo, like a jilted ex, refused to promote the show in order
to stick it to
the Weinstein Co. for moving to Lifetime. Bravo is foiled, as the 5th season gets the series' best ratings ever.
September
: The Weinsteins
hit a roadblock
: New York State Supreme Court judge Richard Lowe blocked the Weinstein Co. from moving Project Runway from Bravo to Lifetime.
October
: Lifetime
joins the rumble!
They want the case moved from state to federal court. As we reported at the time, "This means that the air date for Season 6 will probably be pushed back. Again. Despite the fact that filming has just wrapped."
Now
: According to the
Times
, "A federal judge in Manhattan is now in the process of deciding whether to uphold or overturn the state judge's injunction or whether to return the case to the state level." Lifetime remains optimistic, and the
Times
says that "Bravo is all but certain to have lost
Project Runway
…But there is also a chance that Bravo will beat
Project Runway
to the small screen with a competing show. " Bravo has already revealed plans for a
Runway
-esque show called
The Fashion Show
, which is just like
PR
except viewers choose the winner rather than a panel of experts. Bunim-Murray Productions, the folks behind the
Real World
, are the new producers of Lifetime's
PR
, but I wouldn't count on seeing the fruits of their labor any time soon.
Legal Tangles of 'Project Runway' Keep It Frozen on the Catwalk
[NYT] Earlier:
Lifetime's Latest Sobfest: The Death Of Project Runway
Is Marie Claire Taking Over Elle's Sloppy Project Runway Seconds?
Project Ruinway
Can Project Runway Be Saved?
r
Where Are The Project Runway Season 5 Reviews?