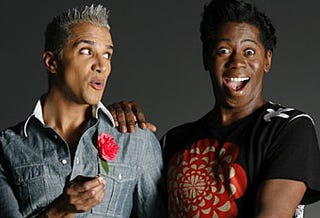 America's Next Top Model
coaches Jay Manuel and J. Alexander are
currently filming
their spinoff,
Operation Fabulous
. The premise? Mr. and Miss J ride into small towns across the country to advise everyday girls on how to "work it" in the real world. A sort of
Queer Eye For The Plain Jane
.The show has yet to get picked up by the CW, but expect a "feel-good" vibe that's a contrast to the way the Js cut down wannabe models on
ANTM
. CW president Dawn Ostroff says these guys root for women: "Jay is your parent in tough love. He tells you the way it is, but only because he wants you to be the best you can be. As much as Miss J criticizes and rolls his eyes, deep down, he's just looking for the girl who can get it done." Jay Manuel, who grew up in Toronto and has been a stylist for Tyra, Jennifer Lopez, Iman, Rebecca Romijn and David Bowie, says: "We like working with real women too. We want them to feel good about themselves. We aren't giving them makeovers on
Operation Fabulous
. I actually hate the word 'makeover.' We're teaching them to enhance and maintain what they've already got." Eh, sounds like a makeover. But what about 6'4", 37 inch inseam J. Alexander — who was born Alexander Jenkins in the South Bronx and "plucked from obscurity" to model for Jean Paul Gaultier, then landed jobs in Tokyo and France, where he now resides and speaks fluent French? His entire
life
is a makeover, no? And here's the real question: Isn't the
makeover
make
better
genre pretty saturated? Tim Gunn, Stacey and Clinton,
Style By Jury
,
Extreme Makeover
,
The Swan
… Haven't we seen it all? Especially when it comes to gay men telling women how to be "better" women? On the other hand, the Js
are
… different. Ostroff says when she first got a load of them in 2003, for the first season of
Top Model
, "They truly were unlike anything we'd seen on TV, refreshing and hilarious."
'Top Model' Duo Gets A 'Fabulous' Spinoff
[LA Times]