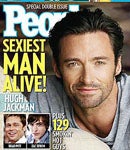 Breaking!!! Hugh Jackman has been named
the Sexiest Man Alive
by
People
. We applaud them for this difficult decision, which they say was made because he is all "scruff and biceps" and his role in
Australia
kept him "dirty 95 percent of the time." Click on the
People
cover for a bonus pic of Hugh half naked, discussion of his sexy "hip-swiveling" dance," why thousands of people are now going to apply to be a nanny at the Jackman household, and the answer to the world's most pressing question: boxers or briefs? Happy hump day, folks! [
People
]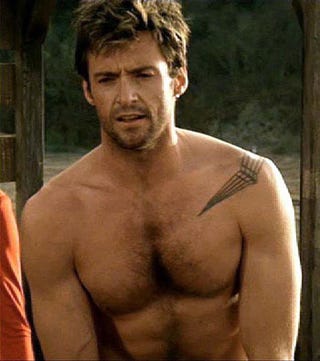 From the
People
interview with Hugh:
Q: How do you keep the passion alive?
It's easy with my wife. She loves the idea of me coming home in costume because it makes her feel like she's having an affair in a good way. When we met, I was cast as a prisoner with tattoos and she'd say, "Don't take your tattoos off tonight!" and I'd be like, "All right!" But what works best with her is the stockbroker look. She also says, "Do your sexy dance for me," [an '80s-like, hip-swiveling number] and that works for me.
Q: What do you wear to bed?
I didn't wear anything until my daughter was born and we had a night nanny because I was working. I walked out stark naked, and she was reading a book. Now I like boxer briefs.