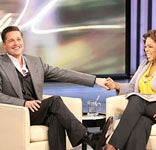 Oh Brad Pitt. Will your dreaminess
ever cease to amaze?
"[I'm] tough as nails. I'm impervious to poo, snot, urine, vomit. You can't get me. You cannot break me down," he apparently tells Oprah on tomorrow's show. Pee and poo cleaning? We like those qualities in a man. Swoon! • Camilla Belle is going to be the
envy of every tween in Christendom.
First she was rumored to be dating Joe Jonas of the Jonas Brothers. Now, she's rumored to be dating the star of
Twilight
, Robert Pattinson. But! There are also murmurs that she's canoodling with Pattinson's goody friend, actor Tom Sturridge. Dramz!!! • Miley Cyrus
isn't mad
at those tricksters who started the rumor that she was dead. She told Ellen DeGeneres that she was "tickled" by it. She also dished about her boytoy, undie model Justin Gaston. "He's a singer, he's really cute, and he's nice. He's a Christian, and I really like that." Miley giggled. [
Just Jared
,
LAT
,
US
]