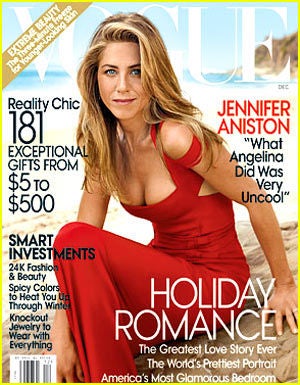 After a year of plunging ad sales numbers and a very controversial
cover
, the rumor is afloat: Anna Wintour might retire. "Her contract is up soon," an insider
whispers to
Page Six. "She's thinking of retiring. She feels she's done it all and had enough." A rep calls the report "completely unfounded," but let's get real here: Some fresh blood could be a good thing.I've said it
before
and I'll say it again:
Vogue
is stale. The covers are static and lack energy; the photo shoots are repetitive. Even though the December issue, with Jennifer Aniston, has attracted a lot of attention for the "What Angelina Did Was Very Uncool" cover line, doesn't that kind of thing seem beneath
Vogue
? It is so very
Star
. Photo-spread wise, the December issue tries to branch out with a "Romeo & Juliet" shoot — costarring, uh,
John Lithgow
. But the following spread is six pages of a blonde model posing and jumping on a grayish-beige background. Which was done in the November issue. And the July issue. And the September 2007 issue. French
Vogue
shakes things up with edgy concepts, like
devil worship
,
breathtaking colors
and
crossdressers
; when there is a photo shoot set in a studio, it still manages to be
interesting
, with black and white photography,
animated models
or
baby animals
. As for Italian
Vogue
, the magazine's
experimental
photo shoots are often
bizarre
, but never boring. And the July edition, dubbed the
"All Black" issue
, was such a success that it sold out in many cities. There's no doubt that Condé Nast would never allow American
Vogue
to be as edgy or fashion-forward as its international editions; it's a
mainstream
fashion and lifestyle magazine. But other American magazines manage to make fashion seem fun and fresh:
Marie Claire
had a
goofy gameshow
shoot, in addition to
visiting Vietnam
and finding
romance in Rome
. Of all of the women's magazines out there,
Vogue
disappoints more than any other. Possibly because it has the most legendary reputation to live up to. But. Month after month, it ignores models of color, celebrates the untouchable lifestyle of the rich and manufactures ridiculous insecurities (like when Vera Wang called armpits
"nasty"
. I guess we should just amputate our limbs?).
Vogue
needs to ditch the overly Photoshopped covers, discover diversity, quit featuring the same old people (
Kate Bosworth
may be thin and blonde, but she is
not
interesting) and take some risks.
And I don't mean putting LeBron James on the cover.
And maybe in order to get a fresh new look, you've got to clean out the closet. And if that means trying
someone
new, so be it. No one doubts that Anna Wintour is an icon, an editor who would leave behind a legacy. But she's been edior-in-chief since 1988, and we've seen what she can do. Let someone else give it a shot. Maybe when we get a new President, we should get a new
Vogue
as well?
Restelss Anna
[Page Six] Earlier:
Royals, The Rich & Marc Jacobs: No Wonder Vogue's Numbers Are Down