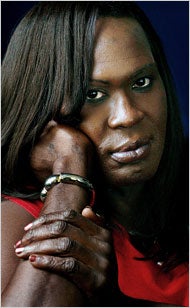 Thursday is the GLAAD-promoted
Transgender Day of Remembrance
, which commemorates those who have died because of violence against transgender Americans. Sadly, Duanna Johnson is probably among those killed due to
bigotry and ignorance.
Here are the facts: Johnson, 43, was shot to death on November 9th in Memphis. Though three men were seen near the crime scene, no one has been arrested and there are no suspects.Why is this more fishy than any other unsolved murder? Because earlier this year Johnson, while getting arrested on prostitution charges, was beaten by her arresting officer, a man named Bridges McRae. He also peppered her with anti-gay slurs, which eventually resulted in the firing of McRae and fellow officer James Swain, who held Johnson down. The entire incident was caught on tape and splashed across the internet. Johnson was in the process of settling with the city of Memphis for $1.3 million when she was murdered. There is no evidence linking McRae or Swain to Johnson's death at this time, but the circumstances of her death remain suspicious. Jonathan Cole, the Shelby County chairman of the Tennessee Equality Project, tells the
International Herald Tribune
, "For the most part, I think people in the South treat each other well. But there are prejudices that people have, and those prejudices come out in ways that are often violent when no one is looking." However, the
cruelty and hatred
hurled towards Thomas "The Pregnant Man" Beatie shows that it's not just the South, but the entire country, that needs a lesson in transgender tolerance.
Murder Of Transgender Woman In Tennessee Revives Scrutiny
[IHT]
Transgender Day of Remembrance
[GLAAD] Earlier:
Why Do People Hate The Pregnant Man So Much?