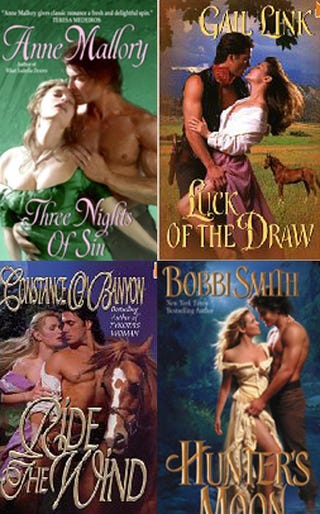 A confession: I have been known, on occasion, to read romance novels. I like the feisty female protagonists and descriptive, hot sex that are typical of the genre. But the one thing books I'll admit to reading to
do not
have is a "clinch" on the cover. The "clinch," the pose in which a handsome hero embraces a buxom babe, may seem old-fashioned and passé; I just find it
embarrassing
. I don't want to pick the book up, or be seen reading something with a Fabio knock-off on the cover. But,
Publishers Weekly
reports,
the clinch is forever
. Because clinch covers sell.Reporter Lucinda Dyer spoke with Borders romance buyer Sue Grimshaw, who claims: "A clinch is never passé, but it is always evolving. A tastefully done clinch is a must-have for debut authors." Editorial director of Avon books, Carrie Feron, says: "We're pro-clinch at Avon. Clinches are important when readers don't recognize the name of the author, but it doesn't have to be the clinch of 20 years ago." Pocket books executive VP and publisher Louise Burke explains, "While we still use the clinch to indicate a sexy romance, we always try and make it fresh with color and type." I went through a historical romance phase, stuff like
Mischief
, by Amanda Quick, the pen name of Jayne Ann Krentz. The synopsis is rather typical: "Innocent but intrepid" Imogen Waterstone enlists the aid of the fearsome and "cold-blooded" Earl of Colchester in her "dangerous pursuit of justice and revenge." But thankfully,
the cover
doesn't have some dude in breeches grasping at a generic redhead. I found out about the book from a review in a ladymag; I'm sure I
never
would have read the story — which was a frolicky, completely enjoyable beach read — if there'd been a clinch on the cover. Illustrations of couples embracing seem cartoonish, silly and downright redundant. Apparently, I'm not the only one who finds the clinch off-putting: Sarah Wendell, cofounder of a blog called smartbitchestrashybooks.com, says: "Many readers hate it.
Hate
it. At best, the clinch can be a visual exercise in Technicolor hilarity, or at worst a complete and total embarrassment for the reader." But a reader on Romancing the Blog is not one of those embarrassed. She writes: "I've been reading romance for 30 years. The clinch cover is like an old friend. It's comforting and warm in a way new covers aren't. With a clinch cover on a historical, I know exactly what I'm getting. I'm getting transported back in time to a faraway place by the kind of book that hasn't disappointed me in decades." As Sarah Wendell of Smart Bitches Trashy Books says, "Clinch covers will probably never go away: they sell."
The Forever Clinch
[Publishers Weekly]