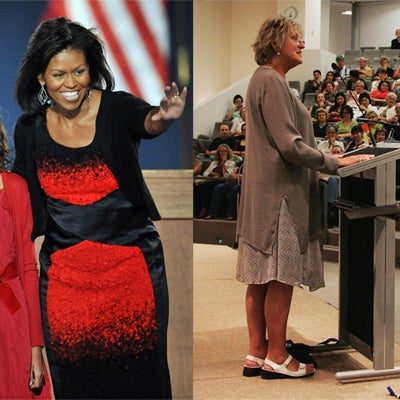 I am not a fashion critic because my fashion sense is pretty well limited to "Ooh, pretty!", or "Ooh, shiny!" or that unsubtle sucking of air in between my teeth that means an otherwise attractive person has chosen something that emphasizes his or her flaws. In my opinion, Michelle Obama's election-night dress was none of those: it did not inspire envy or pity and it served its purpose of putting a great color and good shape on her body. For some reason, Germaine Greer, noted feminist author, disagrees , calling it a "sour note".Rather than just hating on the color pink, Greer calls Michelle's dress "a red butcher apron" and says "could hardly have chosen anything more saturnine " (by which she meant morose and glum). But it gets worse:
The effect of the strong contrast was to turn a mere frock into a poster in the most disturbing colours known to man, the colours of chaos. The juxtaposition of a rectangle of red on a black field is what we might expect to find on a flag or a shield. Coral snakes and venomous spiders signal their destructive potential by the display of similarly violent contrasts.
Um, I wear black with red all the time, and I hardly have Michelle's coloring or body — not that I'm about to take fashion advice from Mistress of Grey Greer. Greer also takes Michelle to task
for the size of her head
and her decision to never wear stiletto heels, which might have everything to do with comfort, but which Greer attributes, strangely, to the need to make her head appear smaller than Obama's. And then she goes back to the dress:
The original is at least eight inches shorter than the Obama version, and the neckline a good six inches lower. The splash of red, rather than pouring halfway down the thigh, ends above the crotch and extends from hip to hip, with a small flare on each breast, avoiding entirely the butcher's apron effect. The Grant Park version of this cute and sexy dress was a travesty.
So, Greer is suggesting that Michelle's dress should have been shorter, lower cut and more deliberately sexy, and that to pair it with a cardigan
in Chicago in November
was a tragedy of heretofore unimagined proportions? Michelle should have stepped on stage with full-on goosebumps and shivered her way through the crowd-waving rather than despoil Narciso Rodriguez's creation for comfort? Really? Was it my favorite outfit of Michelle Obama's? No. Was it situationally-appropriate, relatively flattering and anything but a national disaster? Yeah, I think so. But, either way, sitting here in my striped pajama pants ($5 on sale at Target), blue tank top ($10, Ann Taylor Factory store) and ponytail, I wouldn't feel like I had a lot of room to be as nasty as Greer about it even if I thought otherwise — and if I made public appearances in Birks, stockings, over-long grey sweaters and little floral skirts, I might think yet again about doing so.
If Michelle Obama's Such A Great Dresser, What Was She Doing In This Red Butcher's Apron?
[The Guardian]