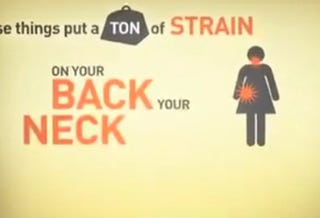 When Johnson & Jonson debuted a web clip this past weekend - a psuedo-advertisement for Motrin, in which a snarky, slangy female narrator gripes about the social pressure to "wear" baby slings -
Twitter moms freaked out
. The narrator says, "Supposedly it's a real bonding experience… They say that babies carried close to the bod tend to cry less than others. But what about me?" Yeah, she uses the word "bod." She also says that wearing a baby in a sling "totally makes me look like an official mom." The ad is supposed to promote Motrin as a cure to the pain you can get from carrying your baby instead of putting her in a stroller; but mothers on blogs and Twitter feeds agreed: The ad (embedded after the jump) is offensive. Guess what happened?By Sunday night, Johnson & Johnson had taken the ad down. And, at the moment, the
Motrin website
is also down. AdRants
claims that
"Twitter is in an uproar," and Kathy Widmer, Vice President of Marketing for Johnson & Johnson's McNeil Consumer Healthcare, has issued an apology, which reads, in part:
I am, myself, a mom of 3 daughters. We certainly did not mean to offend moms through our advertising. Instead, we had intended to demonstrate genuine sympathy and appreciation for all that parents do for their babies.
AdRants calls the ad "innocuous" and claims "America has lost its sense of humor." But some moms were upset enough to produce a
protest video
. Personally, I just found the commercial annoyingly blithe. But judge for yourself, and decide: Was the video offensive? Or did the moms overreact?
Twitterers, Bloggers Praise Motrin for Giving Them Something to Do Last Weekend
[All Things Digital (WSJ)]
Twitter Ignites Motrin Mania
[AdRants] Related:
Are Baby Slings Good For Mothers And Babies?
[Times Of London]