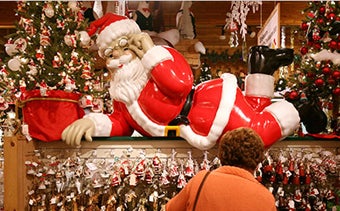 The economy may be in the crapper, but Christmas is not cancelled. And maybe celebrating with lights, ornaments and food in the middle of winter is actually a good thing. Or at least, that's what the people at Bronner's want you to think. The New York Times sent style reporter Guy Trebay to the Bronner's "CHRISTmas" Wonderland in Frankenmuth, Michigan, where he got lost amongst the "the John Deere tree skirts, the reindeer-pattern Kringle Kozies slipper socks and the miniature Mexican Nativity in a nutshell."Trebay asked himself: "Was that Santa ornament really wearing camouflage, with a shotgun held to his torso and a dead mallard slung from his belt?" Of course he was! The ornaments may bring joy and color to the lives of shoppers, but the folks at Bronner's know that the tacky holiday crap they shill is, in fact, totally useless. "There is not a thing out there that anybody needs," Wayne Bronner, the president of Bronner's, tells Trebay. But:
Not much on the sales floor at Bronner's costs more than $10, [Bronner] said. "Even in times of economic turmoil, there comes a moment every fall when people look at the calendar and see that Christmas is still coming and it's still on Dec. 25," added the company president, who that day had chosen from among his collection of novelty neckties one patterned with Christmas bulbs. "The $10 ornament that's the perfect gift for Grandpa or Uncle Rob is not going to make or break anybody's budget," he said.
And yet. The cold, hard truth is:
You don't need this stuff
. Trebay writes about the "150 different styles of nutcrackers; ornaments that said 'Merry Christmas' in 70 languages; display cases filled with ranks of sinister Hummel kiddies; 1,700 Precious Moments cherubs with woeful teardrop eyes; 500 Nativity sets from 70 nations; and Christmas balls in 6,000 styles" and it seems unjustifiably lavish. Christ himself didn't have a Christmas tree, and didn't he live in poverty? At a time of lay-offs, a weak U.S. dollar and general malaise, does spending hard-earned cash on sparkly do-dads make sense? Can a person — on a budget or with cash to burn — justify a glittery Elvis or Bigfoot ornament when the country is in financial crisis?
Excuse Me, Where's Thanksgiving?
[NY Times] Earlier:
9 Really Weird Christmas Ornaments From Bronner's
9 More Weird Christmas Ornaments From Bronner's