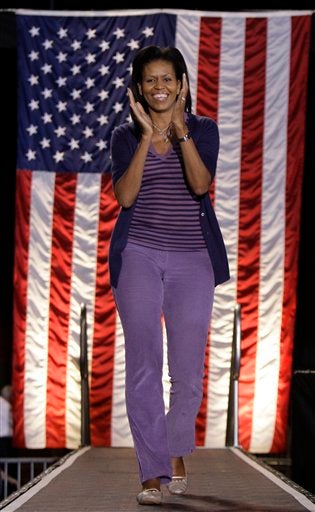 The rumors are flying that
Michelle Obama will grace the cover
of the March 2009 issue of
Vogue
. What sort of ensemble will editor-in-chief Anna Wintour (and, presumably, Barack Obama supporter and editor-at-large Andre Leon Talley) choose for the First Lady? Good question. They'll certainly have to choose an American designer. It probably won't be Narciso Rodriguez; even though she wore a
dress by Rodriguez
on election night, people didn't love it, and
the other items
from his collection don't seem First Lady- or cover-worthy. Still, there are other American designers whose Spring 2009 collections could work. Some suggestions, after the jump.
First: There's nothing here by popular American designer Marc Jacobs, because his
Spring 2009 collection
was just too weird for Ms. Obama.
But what about the always classy
Oscar De La Renta
?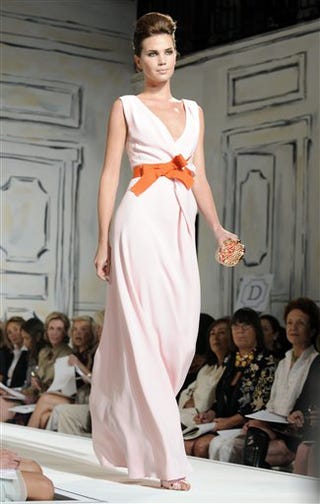 This pale, lean column would be a breath of fresh air!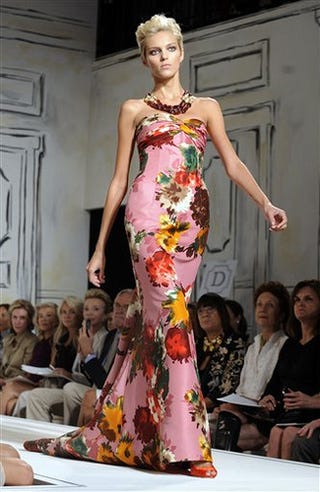 What about a bouquet of flowers? Optimistic and gorgeous, especially for March. There's
another floral dress
de la Renta designed for Spring that could work, as well.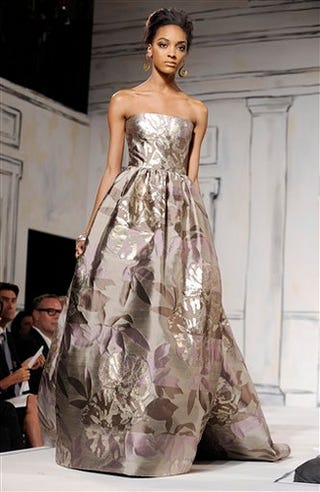 Perhaps some understated glamour? Ms. Obama has fantastic shoulders, and would look regal in this.
Maybe
Carolina Herrera
would be a better choice: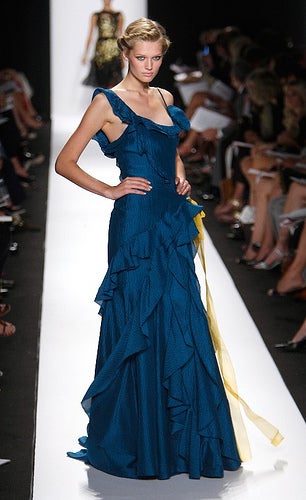 A beautiful, ruffled gown in Democratic blue! (It also comes in
red
, which Ms. Obama looks great in.)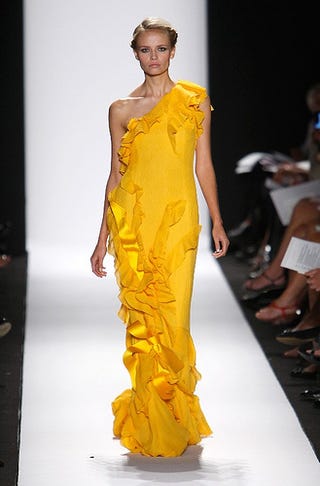 Or, imagine Ms. Obama's skin against this sunny, bright yellow.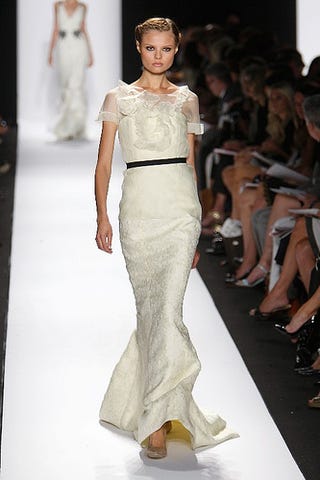 This straight-and-narrow ivory column is graceful and timeless.
Consider this: Michelle Obama wore a dress by
Thakoon
at the Democratic convention, and he has a few designs for Spring that
might
suit her:
pink and floral
,
slouchy, modern metallic
or
fluttery ruffles
. But perhaps she should try young designer
Peter Som
: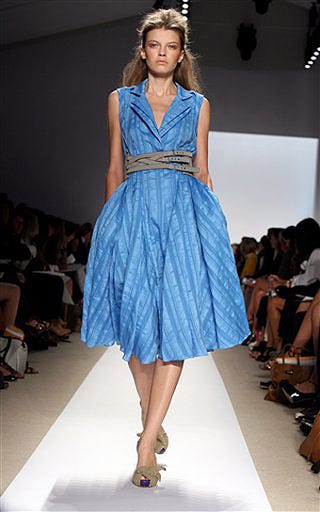 Even though it's casual, Michelle Obama could rock the hell out of this blue shirtdress.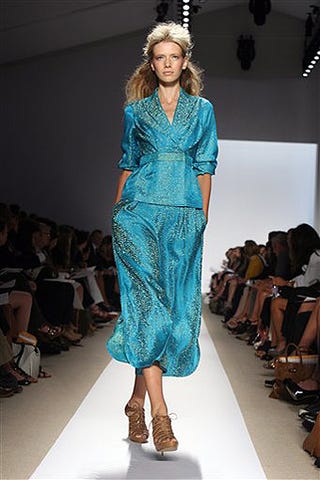 Ditto this shimmery blue jacket and skirt. Plus, don't you think she'd really, really like this
graphic dress
? Totally up her alley.
Michelle Obama looks amazing in color. Maybe the editors of
Vogue
could choose something designed by fashion's comeback kid,
Isaac Mizrahi
?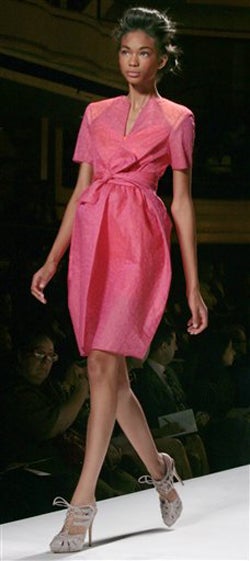 This pink frock is feminine and strong at the same time.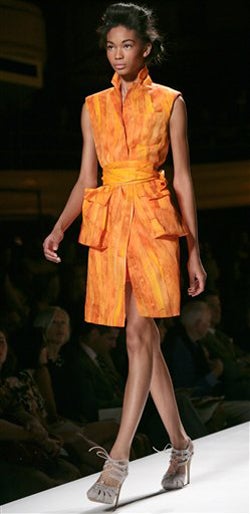 Orange would definitely pop on the cover of a magazine. She'd also look great in this
incredibly romantic pink gown
by Mizrahi.
But, in this writer's opinion, the editors of
Vogue
should put Michelle Obama in a dress designed by
Tracy Reese
. As the only black woman to show in the Bryant Park Tent during Fashion Week in New York, Reese is an inspiration, just like Ms. Obama. And Tracy Reese makes exquisite garments: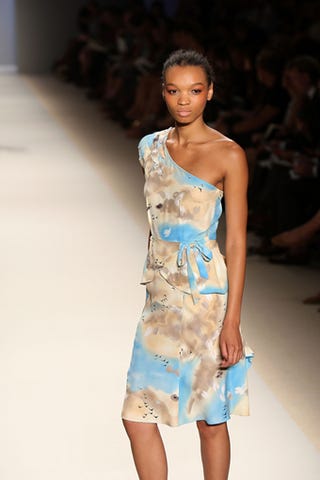 A dreamy, shoulder-baring dress could be a soft, pretty cover choice.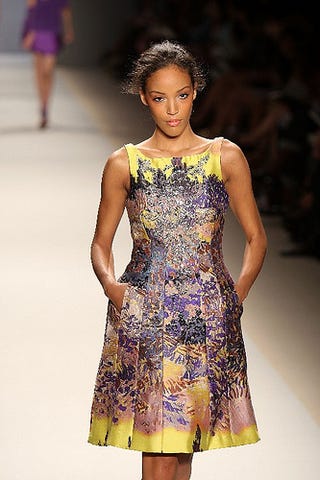 Something truly unique, like this painted frock, would be interesting.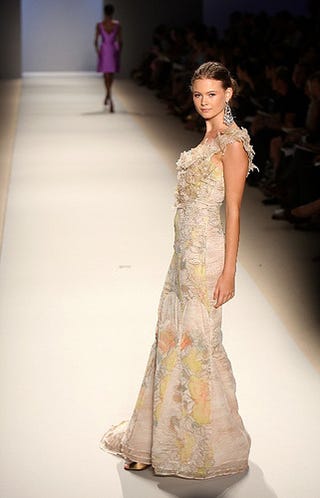 What about a whisper-soft, romantic gown that would make Michelle look like the Goddess of Spring?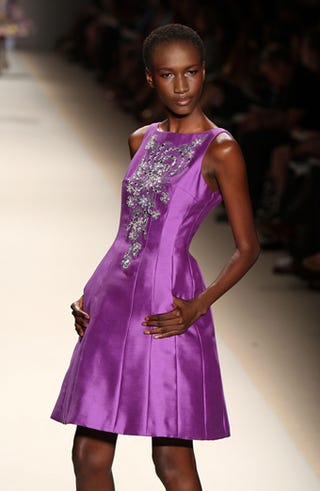 When blue and red states come together, you get a strong, fierce purple. Michelle Obama could make a statement without saying a word!
Memo Pad: Michelle Obama to Vogue?
[WWD]
Blake Bags Vogue, Too
[Fashionista]