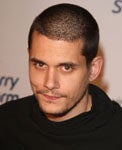 John Mayer will reportedly be
hosting a show on CBS.
"It will be a music, variety and sketch show in the '60s mold,"
TMZ
reports. It sounds like Sonny & Cher's show. Except exponentially suckier. John Mayer is no Sonny Bono, people. • Scott Wolf and his wife, Kelley, who was on the
Real World: New Orleans
like eight million years ago, are
having a baby boy.
If two D-listers have a baby, does their combined star power make the baby a C-list, or an F-list? • The following folks have been chosen by Barbara Walters as the
10 most fascinating of the year:
Will Smith, Tina Fey, Tom Cruise, Miley Cyrus, Frank Langella, Rush Limbaugh and Michael Phelps. Barbara Wawa will reveal the most fascinating of all when the show airs on December 4. Fingers crossed for Rush! [
TMZ
,
People
,
Us
]