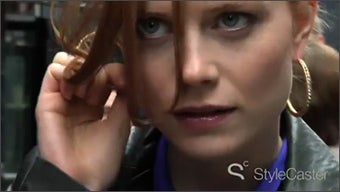 AdFreak reports that there's some new thing called StyleCaster, which is "the Web's first truly personalized, integrated fashion channel." The site has a short film series in which slender, impossibly pretty models hang around doing stuff. Jessica Joffe (writer, blogger, socialite, model and ex-girlfriend of Ryan Adams) changes clothes while walking and shoplifting; some other chicks get "ready for work" by dressing each other in a giant loft. Don't get it? Neither do I. But here's an explanation from the site:
As the first personal style discovery platform, StyleCaster provides members with creative and stylistic inspiration, as well as real world utility. Every day, millions of people wake up and ask, "What is the weather? What should I wear?" Until now, no platform has addressed these questions.
Hahahaha! I don't know about you, but I get my weather from the bottom lefthand corner of the TV or from the "Dashboard" on my Mac; the "what should I wear?" question I've been answering for myself since age 7 or 8. Look: I get that magazines can be boring, static and rigid, and that the web allows you to make fashion come to life — film's been tried by
Prada
and
Louis Vuitton
. But so far, the "films" on StyleCaster — which credit the director, stylists, hair stylists and make-up artists — seem
pointless
. Boring, even. Fashion may be frivolous, but isn't it supposed to be fun? I dare you to watch StyleCaster's safe, manufactured chic and not have your eyes glaze over.
StyleCaster lets models loose on the streets
[AdFreak]
StyleCaster
[Offcial Site] Earlier:
Let's All Take Acid And Watch The New Prada Movie
The New Prada Movie Stars Very Shady Characters
Another Luxury Brand, Another Existential Film