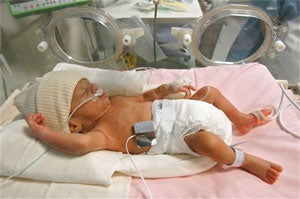 • The
March of Dimes
has given the U.S. an overall "D" grade on its premature birth rate, which is currently at a rate of one in eight babies per year. • The woman who had the first ovary transplant last year
gave birth
to a baby girl via C-section yesterday in Missouri. • A young woman's life growing up "in the wild" with animals in Africa is being
turned into a book
,
Tippi: My Book of Africa
. • A cat who was
missing for over 13 years
was reunited with its owners in California this week. •• Scientists at Rice University have created "BioBeer" a
healthy beer
that has a red wine chemical that is believed to protect against age-related health conditions. • A
new study
in England reports that young girls are starting to drink earlier in life, with most admitting to drinking by age 13 or 14. • Police in Williams Point, Florida have
recovered
a 5 foot tall Betty Boop statue that was stolen last April. • A pastry shop owner
repainted
the sign over his shop in Baghdad with "Obama" and is planning on making an Obama cake with two ingredients of "hope and change." • A
recent study
has found that a chemical commonly found in tomatoes, lycopene, can positively effect cells taken from internal scarring associated with endometriosis. • A
new study
of condom use in heterosexual British couples has found that condom use goes down when couples enter their 30s and 40s and that overall, a little more than half of first time sexual partners use condoms. • What would happen if you ate dog food?
Probably nothing
, but it's still unsafe. • A
recent study
suggests that women are more likely to be harassed when working in equally male and female groups rather than when women are the minority or majority gender in a group. • A European animal welfare coalition said today that tens of thousands of animals are kept in
poor conditions
because EU rules on standards and care for animals are unclear to zookeepers. • A Toronto-area woman claims her
rights were violated
when she was asked to stop breastfeeding her child while she was sitting in a public swimming pool in October. • Although Chinese Americans are considered a "
model minority
" and are one of the most highly educated groups in the U.S., they still make less than their white counterparts. • British scientists have
discovered
what gene triggers some women to develop a resistance to Tamoxifen, common breast cancer drug.• Evening fun: a
video
of of Russian man who lives with his "performing llama" in his apartment. •