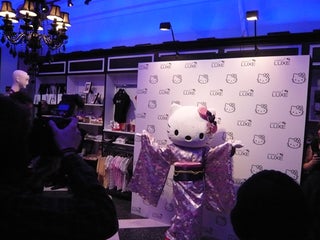 S
Last night, there was an opening party for the new Sanrio Luxe store, in New York City's Times Square. In attendance: Lisa Loeb, Heatherette designer Richie Rich, noted socialite Tinsley Mortimer, drag legend Lady Bunny… And Hello Kitty herself, wearing a gorgeous kimono! On display were all of the items one will be able to purchase at the new store: $100 Cashmere scarves, blingy jewelry, luggage and designer leather gloves. Get cat scratch fever, after the jump.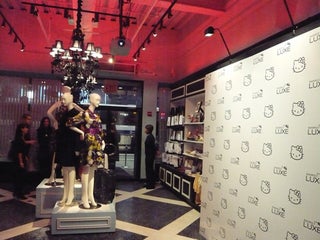 S
The store itself is rather lovely, what with the chandeliers and whatnot.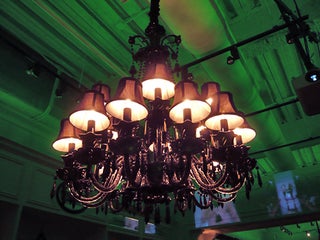 S
In fact, if Santa wants to bring me this chandelier — and an apartment to put it in — that would be great.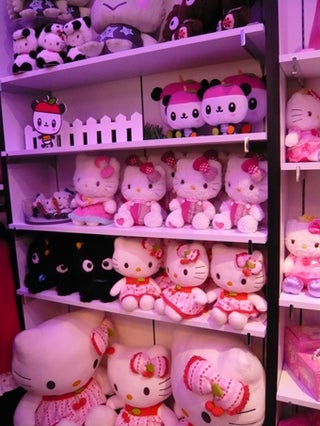 S
The more champagne I drank, the more I wanted to shoplift.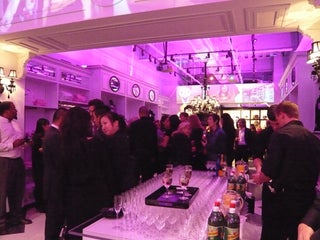 S
People! Cluster around the booze, why don't you!
S
Some of the jewelry is gorgeous. Pearls are so very now.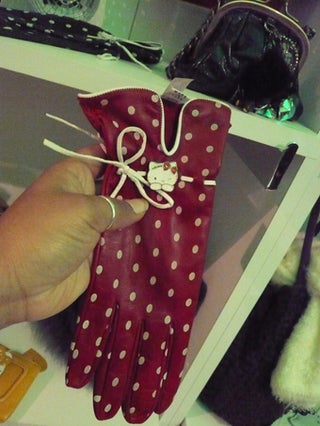 S
Also very now: Gloves. Someone working the party told me these are "big in Japan."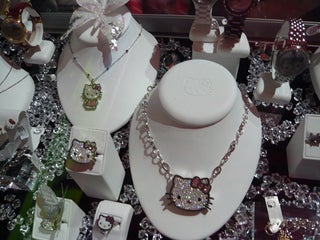 S
The bling mesmerized me with its sparkleosity, not that that's a word.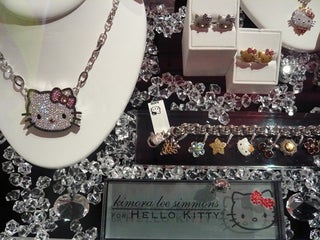 S
It's by Kimora, of course.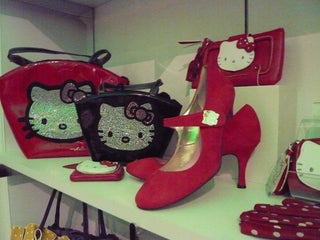 S
Hello Kitty Mary Janes! As the kids say: WANT.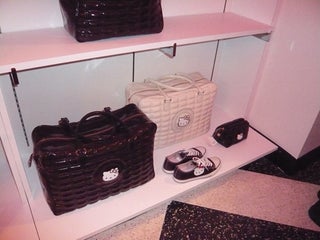 S
Luggage, sneakers, everything "luxe," everything Kitty-covered.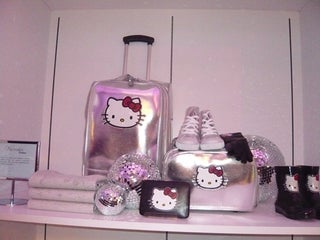 S
This silver stuff was in the kids' section, but I found it
very
attractive. As in lust-worthy.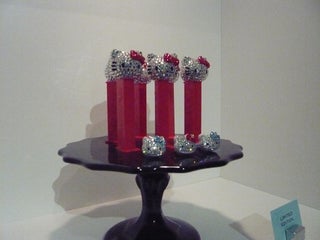 S
One of these bling-covered Pez dispensers was in my gift bag. Delightfully impractical!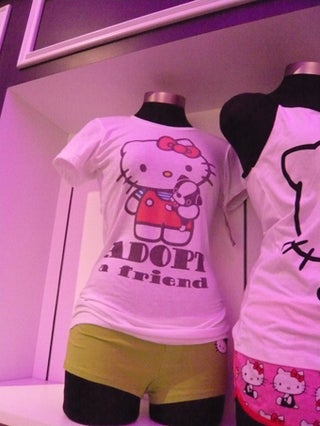 S
Here's a shirt for Malia and Sasha Obama: Presidential pound puppy for the win!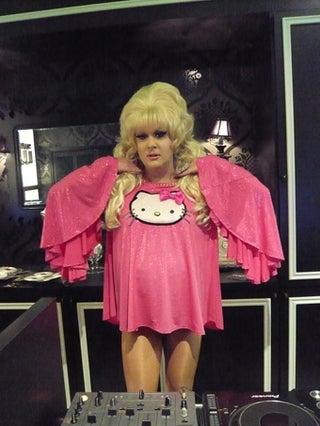 S
The legendary Lady Bunny was the DJ of this event. She played Britney's "Womanizer," Beyoncé's "Single Ladies" and some Deee-Lite.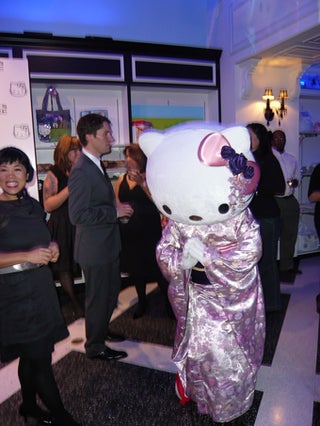 S
Hello Kitty arrived on the scene!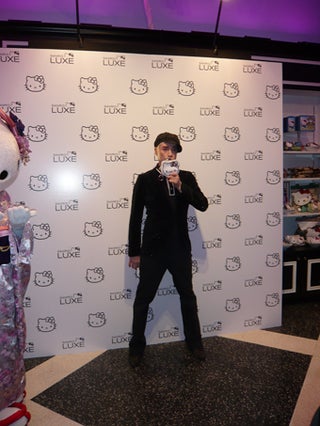 S
So did Heatherette's Richie Rich. There used to be Hello Kitty/Heatherette mashup stuff, maybe he'll so some again?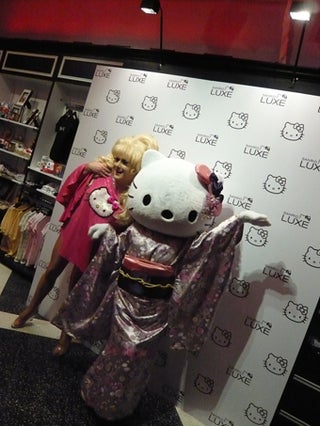 S
The Bunny and the Kitty had some kind of vogue-off.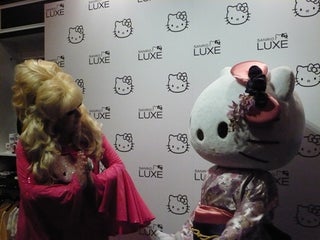 S
I think Hello Kitty won.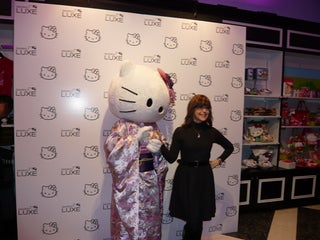 S
Lisa Loeb showed up, and was frickin' adorable.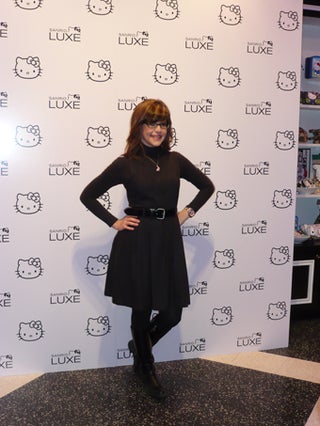 S
Seriously.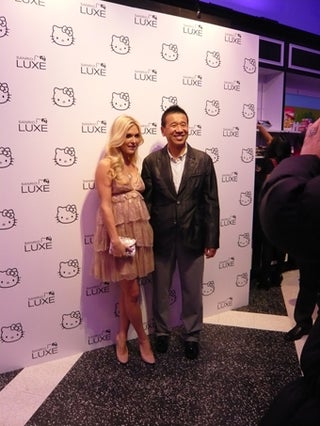 S
Tinsley Mortimer arrived. She is no bigger than a newborn fawn.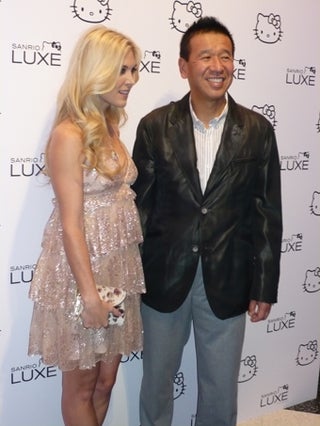 S
Are the Japanese into her or something?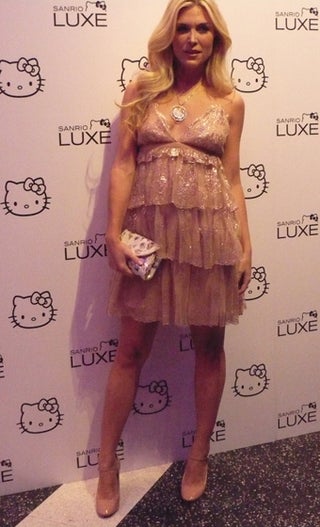 S
She's totally starring in
Bambi 2:Electric Boogaloo
. Tinsley was there very briefly, and I decided: If she's leaving, then so am I. But first: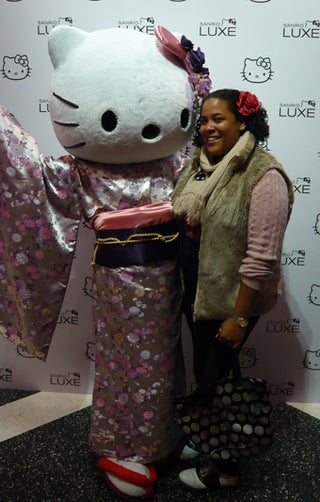 S
Goodbye Kitty!