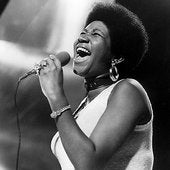 Keeping with its sometimes tiring tradition of putting 20th/21st century musicians into predictable categories,
Rolling Stone
has created a new list of the
100 Greatest Singers of All Time
. These type of lists always tend to cause arguments among music fans, but some of the holes in this list—especially where female singers are concerned—are so idiotic (No Billie Holiday or Ella Fitzgerald or even Diana Ross?) and the hierarchy so confusing (Christina Aguilera over Mariah Carey and Dolly Parton?) that you have to wonder what the people at
Rolling Stone
were thinking. After the jump, see where female singers fit in on
Rolling Stone
's list and argue amongst yourselves.Predictably, Aretha Franklin topped the list, but she and Tina Turner are the only two women in the top 20. Below the top 20, the women are pretty evened out, however most of them seem to be rounding out the bottom fifty. 1. Aretha Franklin 17. Tina Turner 22. Etta James 28. Janis Joplin 29. Nina Simone 34. Whitney Houston 35. Dusty Springfield 42. Joni Mitchell 46. Patsy Cline 50. Bonnie Raitt 51. Gladys Knight 56. Mavis Staples 58. Christina Aguilera 60. Bjork 69. Ronnie Spector 73. Dolly Parton 79. Mariah Carey 83. Patti Smith 84. Darlene Love 93. Annie Lennox 94. Karen Carpenter 95. Patti LaBelle 98. Stevie Nicks 100. Mary J. Blige Total: 24 Any other women you would have liked to have seen on the list? Any women you think shouldn't have been listed? Rant it out in the comments.
100 Greatest Singers Of All Time
[Rolling Stone]