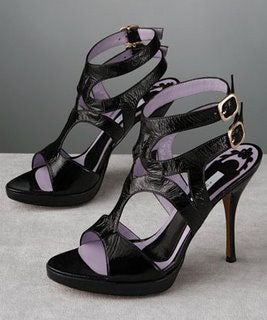 Never were so many loathed so much by so few. I'm talking about shoes here, people: the scourge of grotesque, pestilential, monstrous, outlandish footwear that the nation — nay, the world —- seems to have embraced without a murmur of protest. It started with the gladiator sandal, which quickly mutated into the gladiator boot, which spawned a million vile booties, which became foot-swallowing anamorphic pumps.
Is there no end?The Observer
blames the bootie on Los Angeles, and advises that the optimal look for the season is one "that make you look like a sexy Martian." They add that, "we love ankle boots, hopeful shoes for hopeful times." Ankle boots themselves are inoffensive enough, of course. But the openworked, studded, bejeweled, toe-baring monstrosities stalking our streets today are to the utilitarian ankle boot what A.N. Roquelaure is to Anne Rice: a scary and unfamiliar mutation. It's not just that every single shoe out there is a hideous object, some kind of kinetic wire sculpture ripoff, but they're also unflattering (foreshortening the leg) and impractical (open-toed boots, anyone?) How many times lately have we scanned a lovely gown on the red carpet, only to find our eyes accosted by some sinister melange of patent and buckles advancing up the leg? We are all used to senseless trends, but the scale and scope of this one is alarming. Whether it's a defiant nod to frivolity in straitened circumstances or a symbolic appropriation of the zeitgeist's ugliness (Weimar-style), is beyond my powers to say. But this I can say, and will say: please, I beg of you, make it stop.
Shake Your Booties, Ladies! Go-Go Shoe Is a Go-To
[New York Observer]