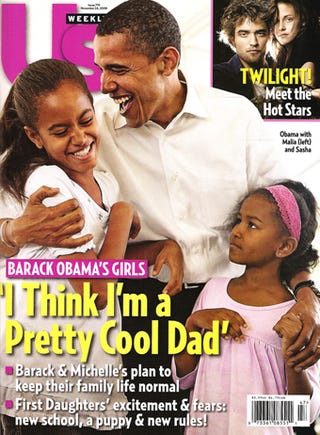 If it's Wednesday, this must be Midweek Madness, in which we scour the celebrity tabloids in search of "news." It's still OBAMANIA in magland; of the five weeklies we cover, only one —
In Touch
— didn't have a story about the Obamas and include a picture of them on the cover. As for the other big stories this week, the tired old love triangle involving Jennifer Aniston, Brad Pitt and Angelina Jolie is
still
making news, and Angelina might
still
be knocked up with her seventh child. Intern Margaret assists as we try to comb through
Star
,
Us
,
OK!
,
In Touch
and
Life & Style
, after the jump.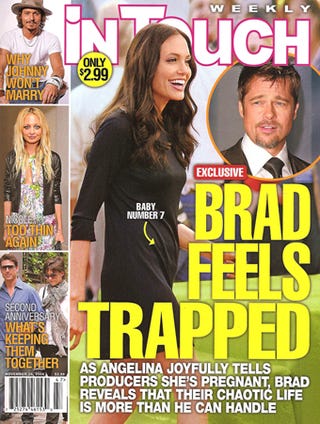 In Touch
"Brad Feels Trapped." Basically, this mag insists that
Angelina is knocked up with her 7th child, and that Brad is "tormented" by her "baby joy."
And insider says, "Brad feels trapped. He knows he can't leave her now." Cuz before, when they only had 6 kids, he could totally just walk away. But seven?? Anyway, the "source" claims that even before the twins were born, Brad tried to "escape" by "drinking vast amounts of beer." Moving on: Tom and Katie are celebrating their two-year anniversary. What keeps them together? Their daughter. Katie "puts up with a lot for Suri's sake," a friend claims. The friend also says: "Life with Tom is not what Katie thought it would be." For the love of Xenu. Also inside: Nicole Richie is "too thin again." A nutritionist who doesn't treat her estimates her weight is 90 lbs.; she was 85 lbs. at her thinnest.
Lindsay Lohan has a crush on Gossip Girl's Ed Westwick!
"I love Chuck Bass," she says. "I want to be his friend." Evan Rachel Wood has "finally" found a guy her age: The 21-year-old was seen making out with Joseph Gordon Levitt, 27. This comes just 3 weeks after breaking up with 39-year-old Marilyn Manson. Christina Ricci has a new man, and he is 6 foot 6 (Fig. 1). On a spread called "The Most Expensive Celebrity Weddings," we learn that Jessica Simpson spent $250,000 on roses; both Mariah and Gwen Stefani had $500,000 receptions; Trista Rehn had $50,000 platinum and diamond-encrusted shoes. By the by: John Stamos is ready to have kids! Lastly, the epically dumb story:
"Suri Is Copying Lindsay's Style"
(Fig. 2)! Since this is the only weekly
not
to cover the Obamas, it receives an automatic failure.
Grade: F- (dreadlock)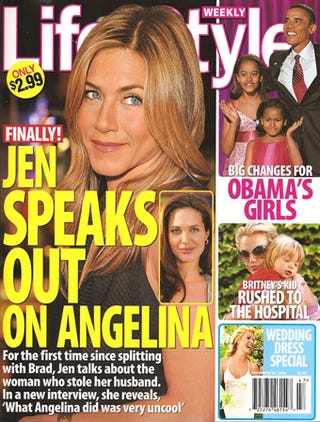 Life & Style
"Jen Speaks Out On Angelina." You've heard this a million times over the last two days and here it is again:
Jennifer Aniston thinks that Angelina talking about falling in love during Mr. And Mrs. Smith is "very uncool."
Jen's friends "know to avoid" talking about Brangelina, and Jen says she can deal with running into Brad, but she's tired of being tied to him publicly. Yawn. Moving on! There are two pages based on Lindsay Lohan's
Bazaar
interview, in which she says she's not a lesbian. She does say she sees herself getting married "eventually." The mag asks, to a man or a woman? LL answers, "I don't know." In a Brad and Angelina story called "Time Apart," we learn that the two make sure they have "date night" at least two nights a month — the nannies watch the kids.
A "Meet The First Daughters" story informs us that Malia Obama likes ice cream
: "Ice cream is my favorite food," she says. "I could eat ice cream forever."
Sasha likes to dance to Beyoncé on her iPod
. Beyoncé has offered to sing at the inauguration! Insiders say that moving to the White House will probably be easier on Sasha because she's younger and more of an extrovert. Malia already has her own set of friends and a life that she's used to, so she may get homesick. But! The White House does have a in-house movie theater,
swimming pool
and bowling alley. Next:
Kim Kardashian has "stolen" Angelina Jolie's stylist
, Jen Rade, who told her to ditch the extensions and stop wearing so much tight stuff. "I've kept 10 Herve Leger dresses as keepsakes," says Kim, "but I've gotten rid of 40." Hayden Panettiere is 19 and now has a $2.6 million house in L.A. It looks cute. Lastly, in "Dr. Rey's Casebook," the doc says that Mandy Moore's nose is "perfect for her face" didn't she
have
it
done
? He also claims that
Whitney Port would be "stunning" with Lauren Conrad's nose
(Fig. 3). She looks awful. Women are not Lego, for you to swap and change pieces, doctor.
Grade: F+ (rat's nest)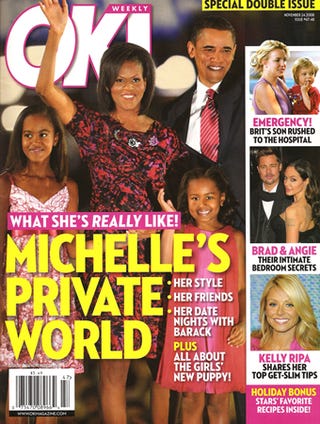 OK!
"Michelle's Private World." Intern Margaret says she didn't really learn anything new about Michelle, and
the only source the mag uses is Yusef Williams, Michelle's hairstylist
. He does reveal that "Michelle has a lot of full-length hair — no extensions — and she has relaxed." Williams explains, in great detail, how to get her 'do: there's serum, blow-drying and flat ironing involved. He expects her look to evolve when the Obamas hit the White House: "I'm sure there is going to be change, because that's the motto: Change. Expect something shorter, layered, fun and one-of-a-kind." There are rumors that the earrings Michelle wore on election night were a gift from Oprah, but that's not true. They're $10,000 Loree Rodkin earrings. We also learned how to get Malia and Sasha's looks, by shopping H&M, Bloomingdales, J. Crew and Payless. Moving on: Britney's son Jayden was rushed to the hospital on Sunday, and an allergic reaction to shellfish was the cause. No shrimp cocktail for little Jay! There's a two-page spread with "exclusive" pictures from Mel B.'s vow renewal in Egypt, if you care.
Grade: C- (teased tangles)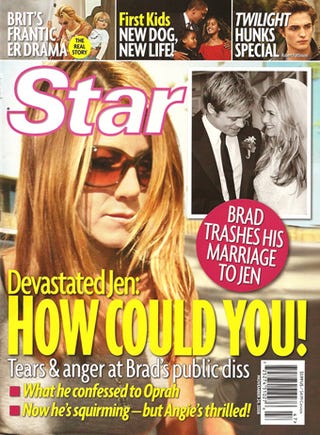 Star
"Devastated Jen: How Could You!" So yeah, what is Jen Aniston pissed about now? According to the mag,
Jen was surfing the web and "came across a story that plunged a knife directly into her heart."
It was when Brad told Oprah that Angelina is "the love of his life." Oprah asked him if he's the happiest he's ever been, and Brad answers, "Dare I say?" To which Oprah said, "Dare I see!" The mag digs up a quote from 1996, when Brad Pitt dedicated his Golden Globe from
12 Monkeys
to "the love of my life, my angel": Gwyneth Paltrow. And! In 2004, while Brad was still with Jen but had started filming
Mr. And Mrs. Smith
, he said: "We'll see where this thing is going. I'm not sure it is really in our nature to be with someone for the rest of our lives." Now Jen is wondering if Brad ever really love her, and she called his mom to cry about it. An insider says having John Mayer's baby is going to be Jen's "in your face" to Brad. Apparently
John Mayer is so frustrated by Jen's "lingering feelings" for Brad that he's written pages and pages of rants he plans to turn into song lyrics.
Moving on: Blind item! "Which new mom is having a little too much fun when her baby's dad is out of town? Booze and coke aren't quite the best diet for someone who is still breastfeeding." Also inside: "America's First Sweethearts" is all about Sasha and Malia Obama! Sasha, who will be the youngest kid in the White House since Kennedy's children, is a budding gymnast who collects snowglobes — dad picks them up during his travels! Plus, there's a picture of Sasha and Barack in a bumper car (Fig. 4)! Lastly, there are six pages called "Hollywood Strip Show," which is about stars who have been — or played — strippers. Did you know that
Mark Consuelos was known as the "king of whipped cream"
when he danced in Tampa in the early '90s?
Grade: C (dry curls)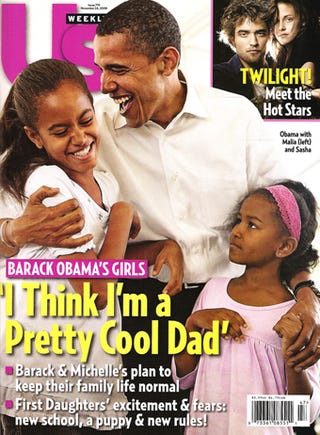 Us
"I Think I'm A Pretty Cool Dad." The issue devotes eight pages to Barack Obama, after having a 13-page page story about the Obamas and other White House families
last week
. They even have a page called
"Obamas — Just Like Us!"
(Fig. 5) You get to see tons and tons of pictures, especially of Sasha and Malia — rollerskating, playing with a puppy, hugging dad, etc. There's also a page called
"Fake Baby News," in which Us calls out In Touch OK! and Star for spreading vicious, vicious lies.
(Fig. 6) Keep your enemies close!
Grade: C+ (conditioned tresses)
Fig. 1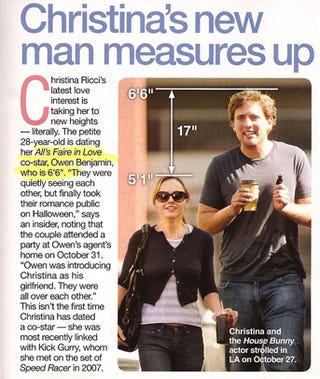 Fig. 2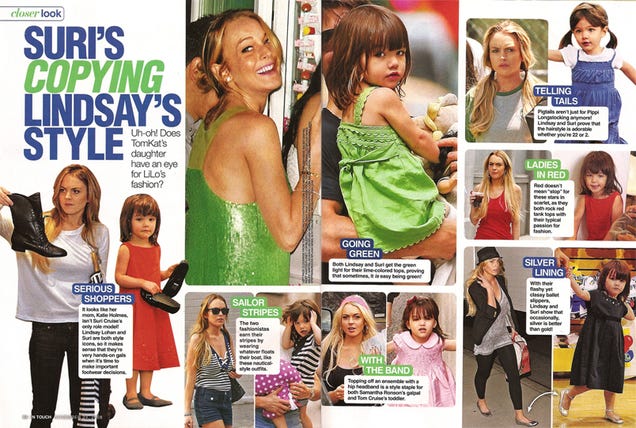 Fig. 3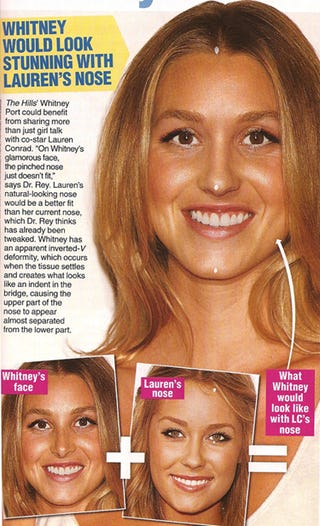 Fig. 4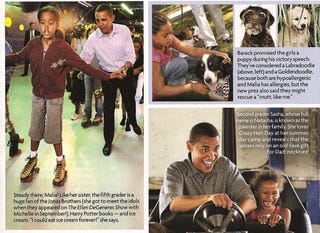 Fig. 5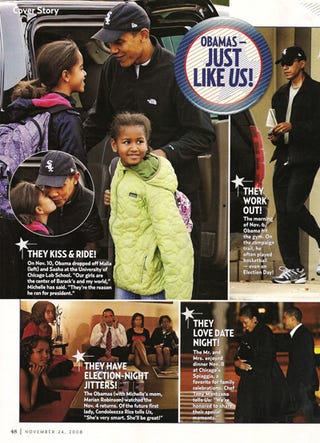 Fig. 6